Singapore, May 2014 – DB&B wins the prestigious "Best Office Interior – Singapore" at the International Property Awards 2014. This is the firm's winning for third time consecutively in the Award's office interiors category. Phillips Connor led the design for Pratt & Whitney's Singapore office, which outperformed a number of strong contenders within the commercial interiors design arena.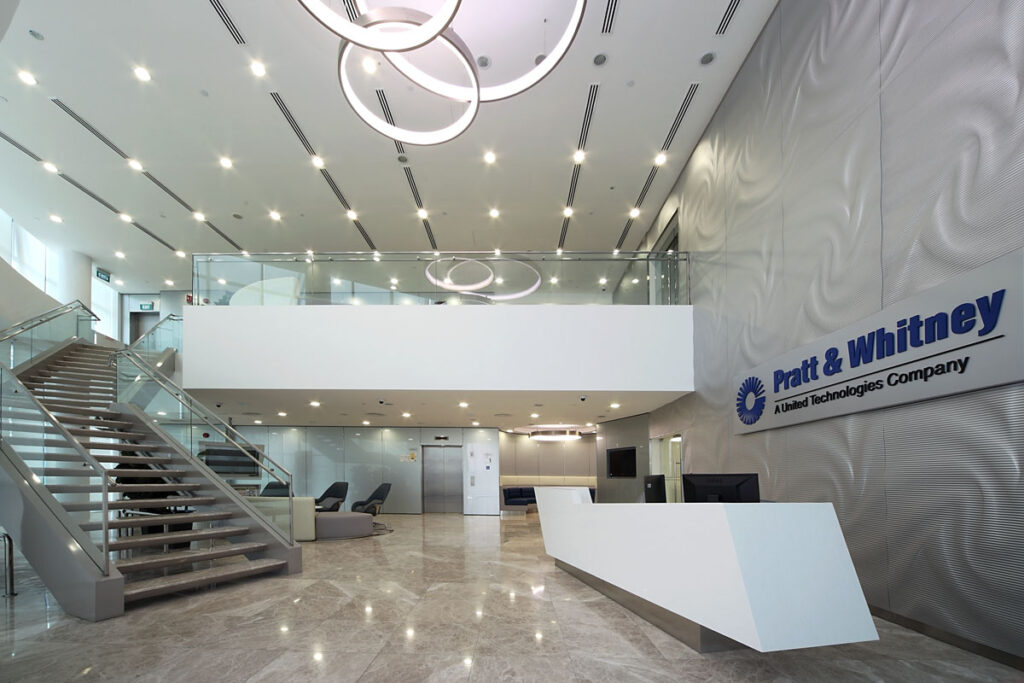 Commenting on the distinguished qualities of the project, Connor said, "Our holistic approach applies a language of aeronautical & aerospace elements that pervades the planning, form, detailing and finishing of all spaces. 'Engine for Growth' is a concept symbolizing Pratt & Whitney's core businesses and identity as a new entrant to the ASEAN market."
The concept proposes a synchronistic modular approach that was designed to suit unique business unit compartmentalization, whilst providing a flexible, future-adaptable footprint. A central circulation "spine" that connects public and private areas, simultaneously segregates the office from adjacent industrial premises.
The central nexus of the spine is a dynamic "Engine" heart on each floor; serving as an employee chill out and café, bringing together diverse groups in a newly egalitarian and collaborative way.
DB&B Singapore's Executive Director Jeannette Siew commented, "We consistently push ourselves to be more nimble and adaptable so that we may meet our Clients' expectations and exceed their aspirations. This award is evidence of that. We are honoured to have won in the face of strong competition; yet at the same time we remain humble in our discipline to produce works respected on the international stage."
Stuart Shield, president of the International Property Awards, says, "It never ceases to amaze me how competing companies from the Asia Pacific region continue to raise the bar even higher every year. The commitment to excellence they demonstrate in every aspect of their profession represents the very essence of these awards."
View Pratt & Whitney's office here.