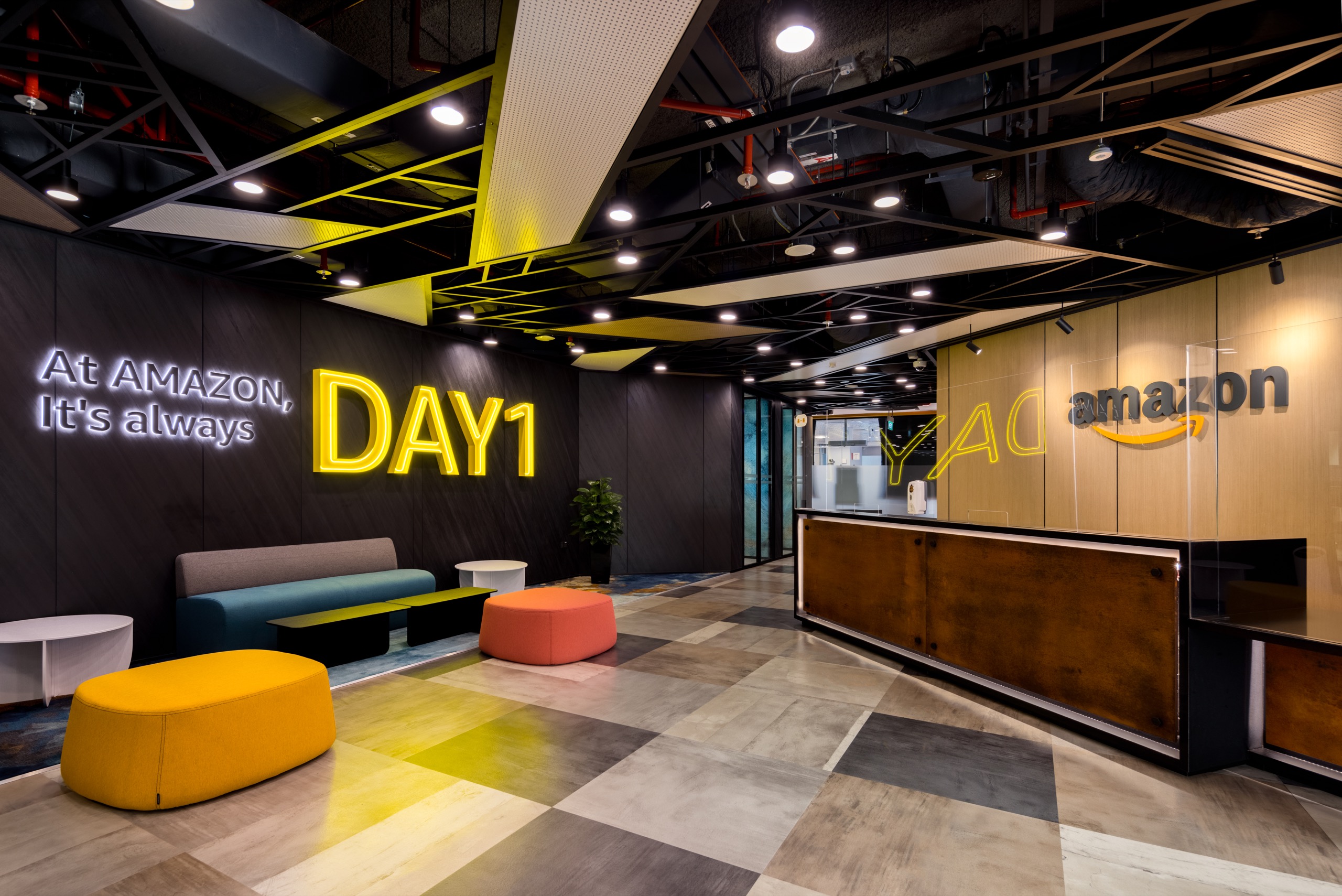 Advocating A Culture
Amazon's main office entrance makes a statement with feature walls flanking both sides of the reception area. Apart from Amazon's signature logo serving as a backdrop for the reception counter, the opposite wall features a neon light advocating the DAY 1 culture and greeting all employees as they make their way into the office.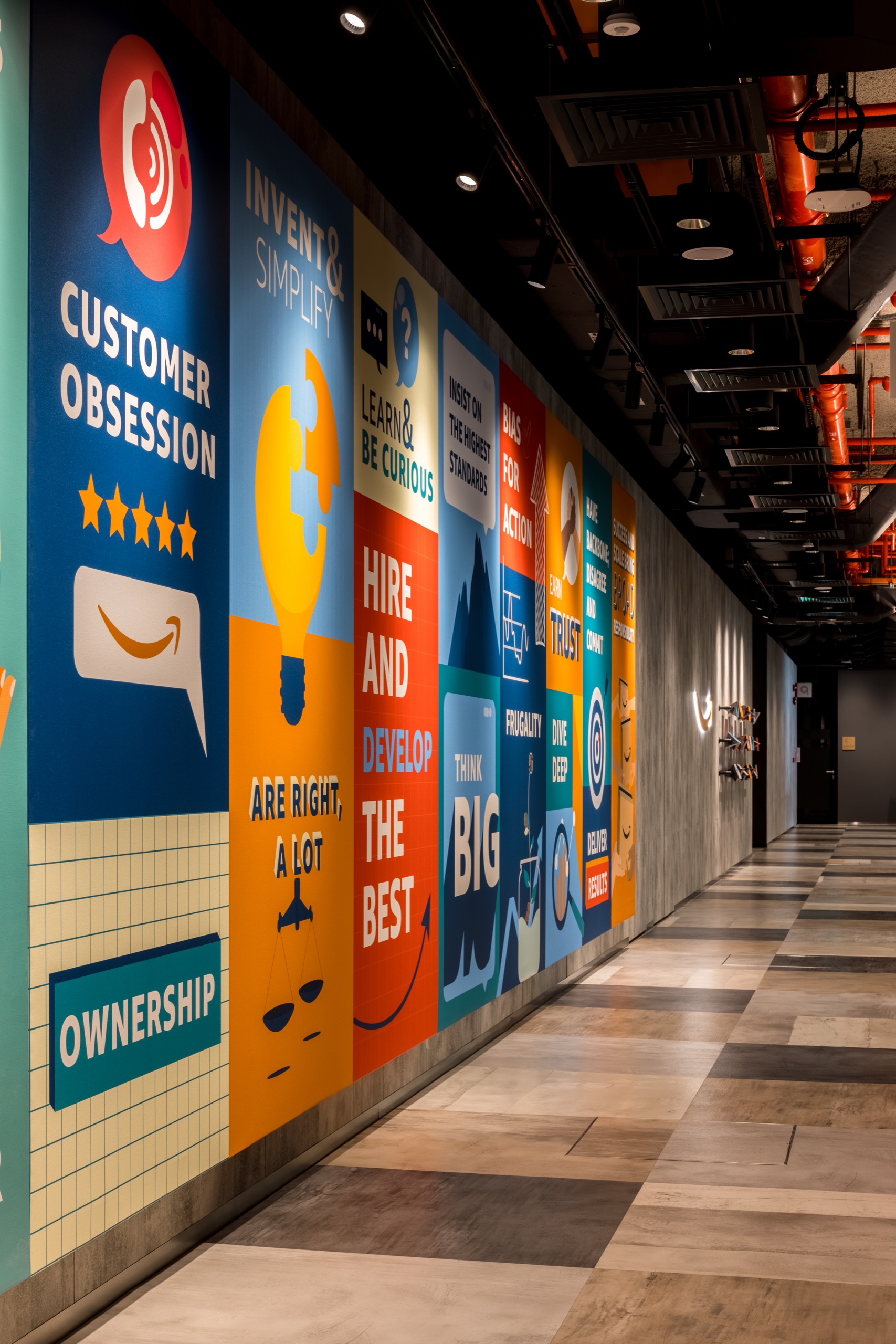 Throughout this multi-level office, the design concept is strongly influenced by Amazon's corporate culture, with hints of local Singapore flavours to create a unique identity within the company's larger portfolio of offices. Internal corridors are cladded with powerful environmental graphics that narrate their leadership principles as well as a journey through Amazon's history – taking pride in being Earth's most customer-centric company, best employer, and safest place to work.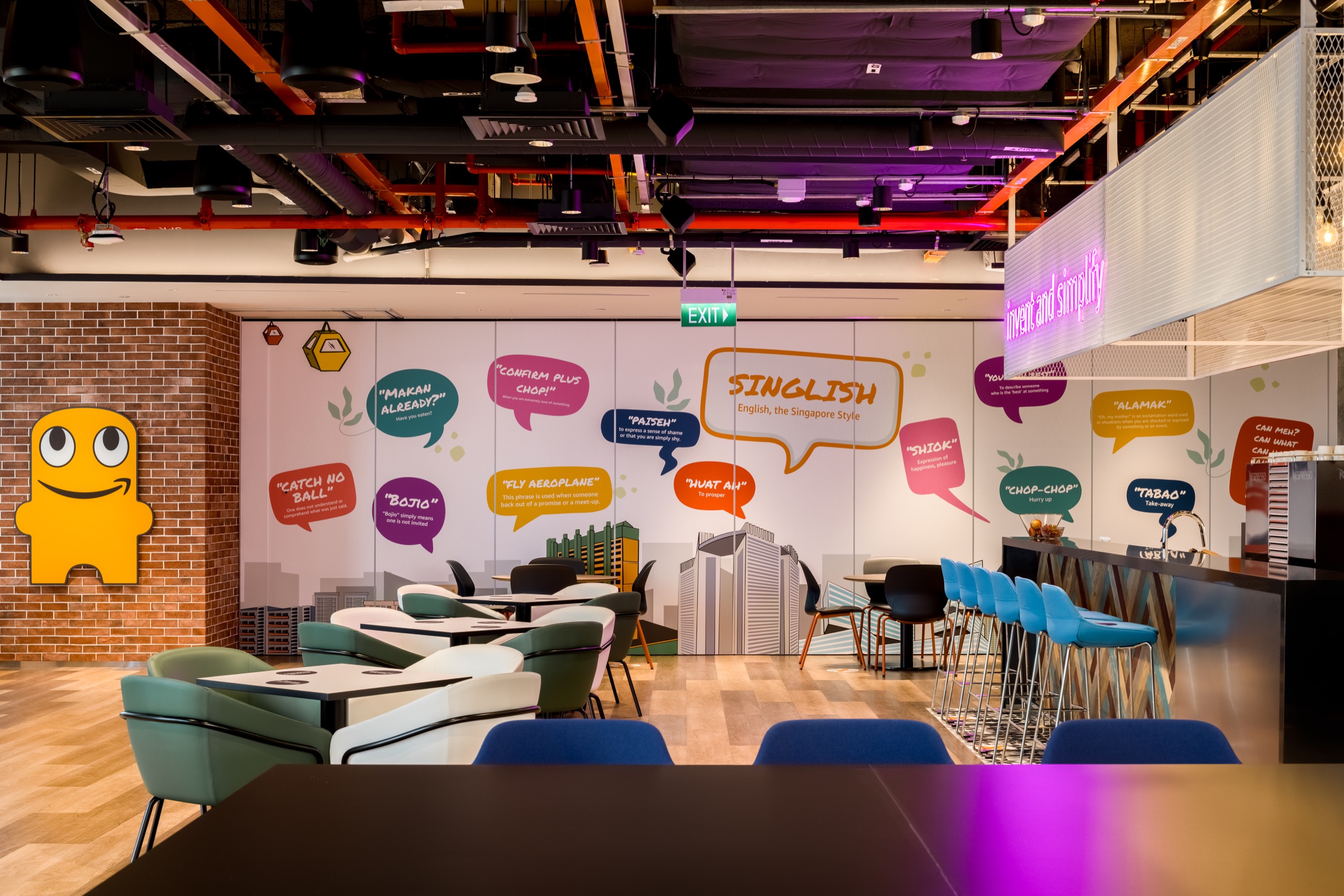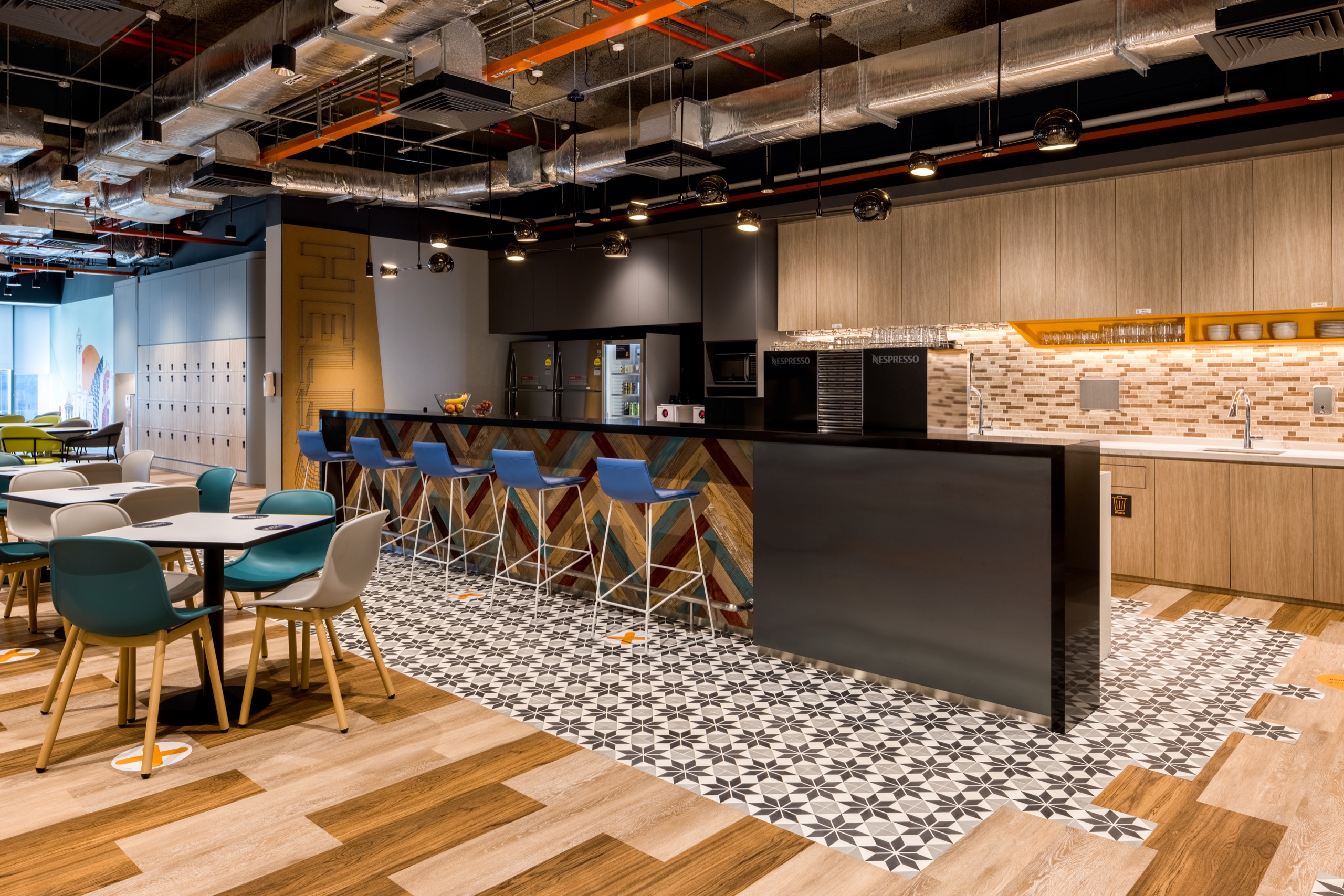 Flexibility Is Key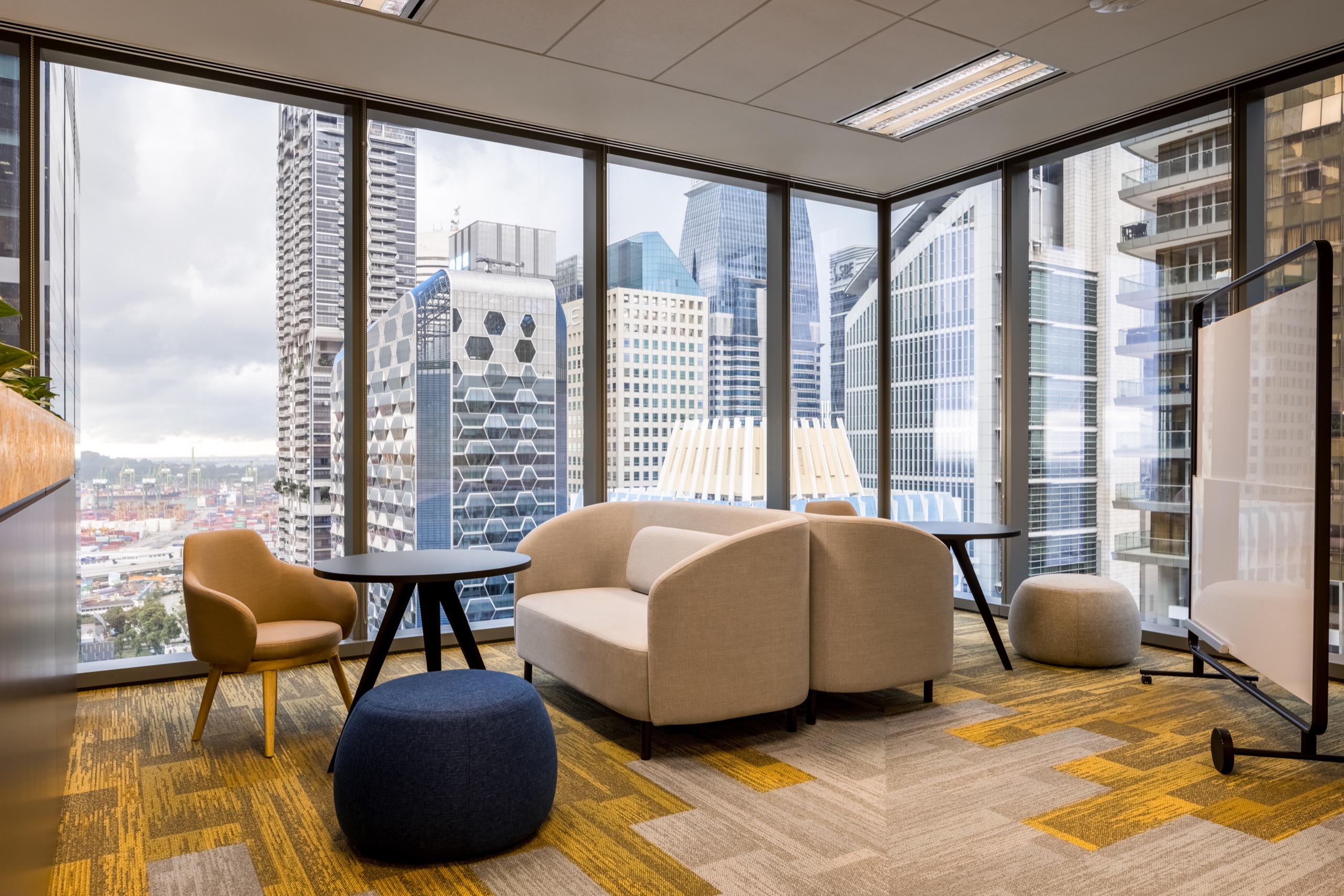 To accommodate Amazon's expanding workforce, selected collaboration hubs are furnished with movable furniture which can easily make way for additional work stations to welcome new employees. Depending on the number of new additions to the team, these furniture can be partially or fully reallocated to another space without compromise to the overall aesthetics and functions of the space.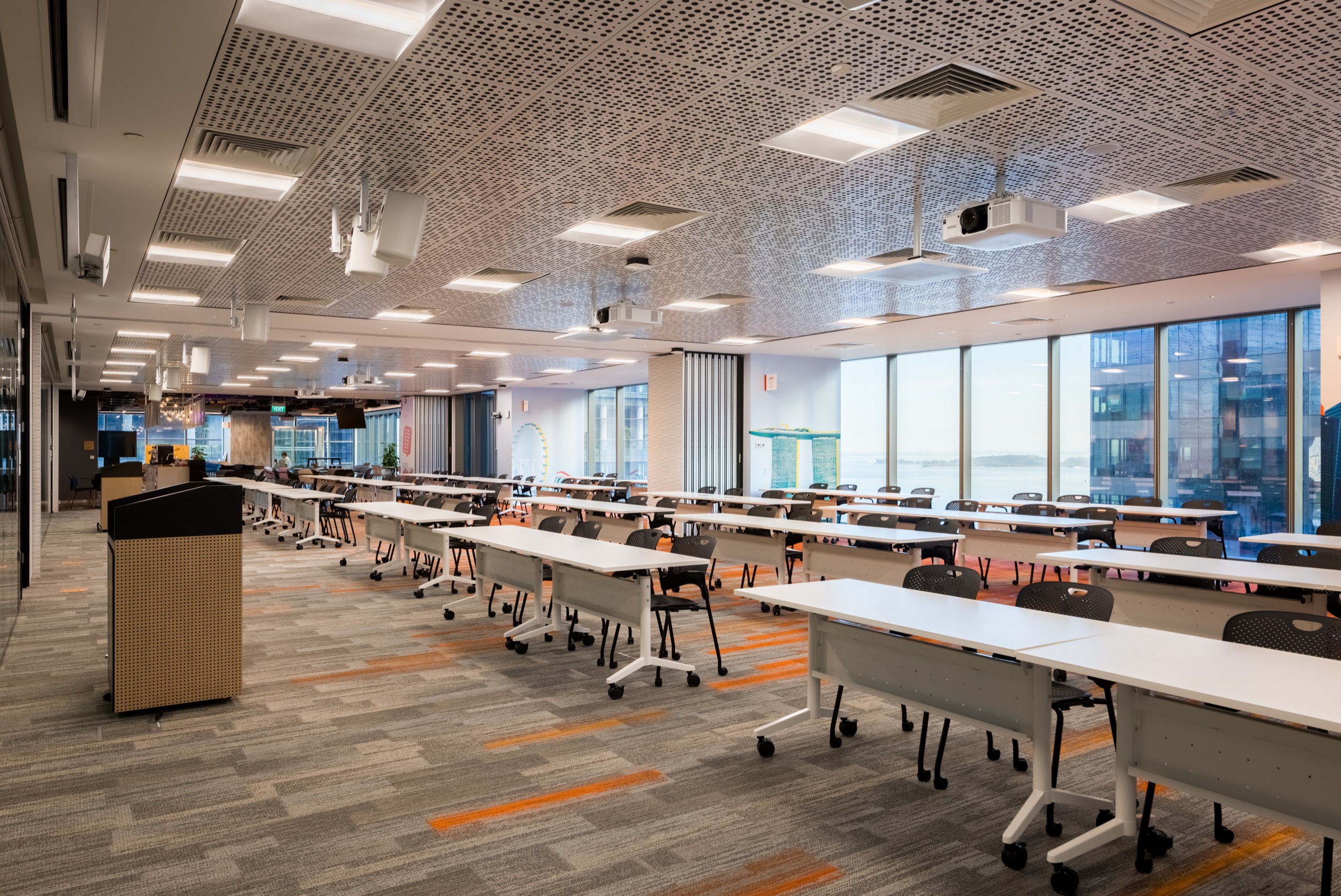 Designed to be a multipurpose space, two large training rooms are separated by an operable wall so the space to open up for larger groups and townhalls. These two rooms are also cleverly connected through their wall design, which features the iconic Singapore skyline surrounding the space. For events and parties which require pantry access, another operable wall can further open up the rooms to a fully equipped pantry dubbed as 'The Social Hub'.
The Social Hub
To create a main space where employees can host their guests for a quick discussion, or for co-workers to congregate and wind down after their daily grind, we planned for a social hub that offers panoramic views of the Singapore skyline. Seating is also designed to fit various group sizes – ranging from individual bar seats to large communal tables.
The vibrancy of this social hub is radiated through its design elements. 'Invent and simplify', being one of Amazon's leadership principles, is displayed in neon lights on a suspended mesh structure that houses the industrial lighting for the bar top. Nestled at the corner of the hub is a product display area, where guests can learn of Amazon's wide offerings of products and solutions.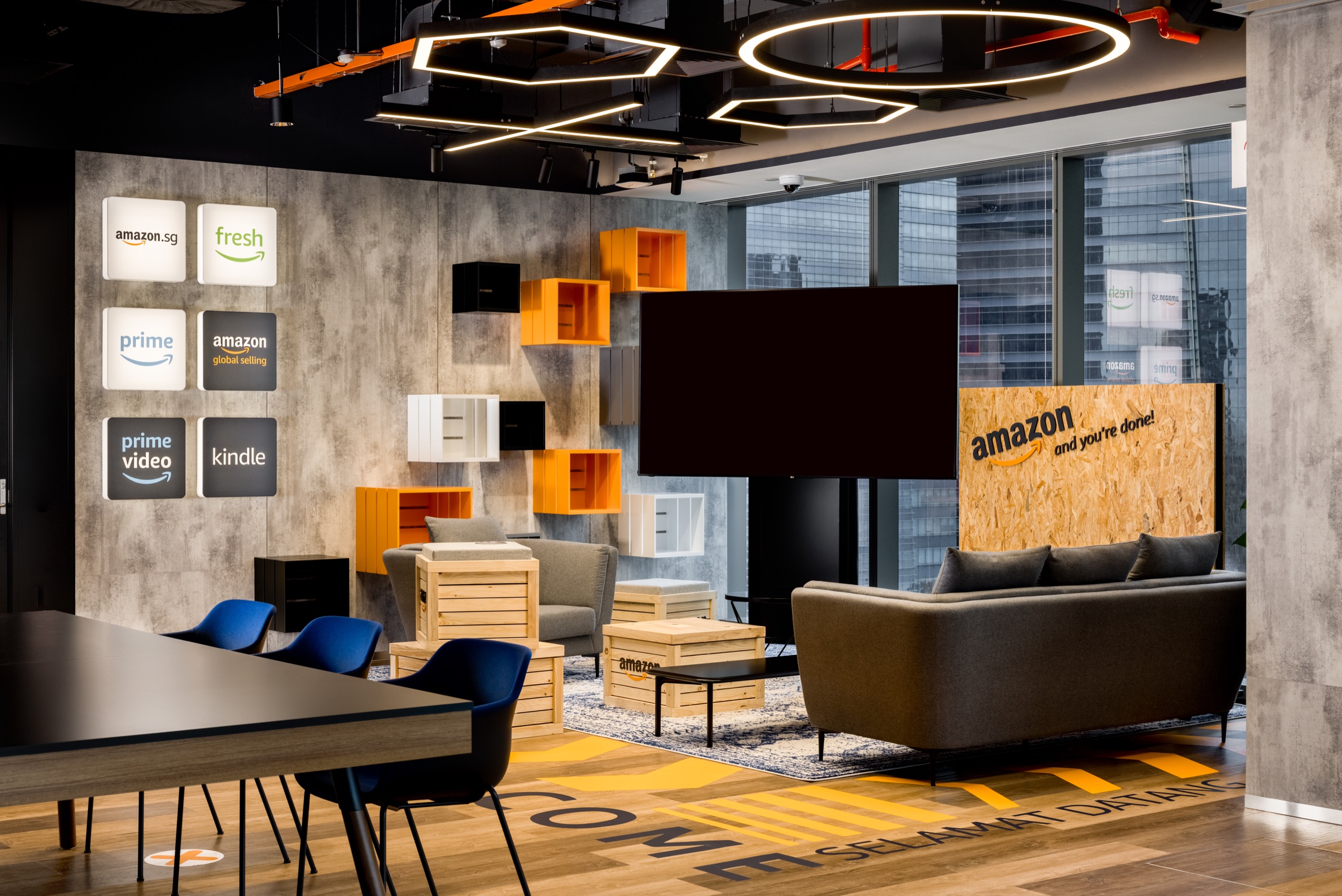 Extending Out
Located at the heart of Singapore – Asia Square, Amazon's office enjoys panoramic views from all sides of the office. To create an illusion of extended space, carpeting used along the perimeters of the office mimics the colours of the environment outside the windows – red roofed shop-houses, the sea, or a yellow building.
Activating Movement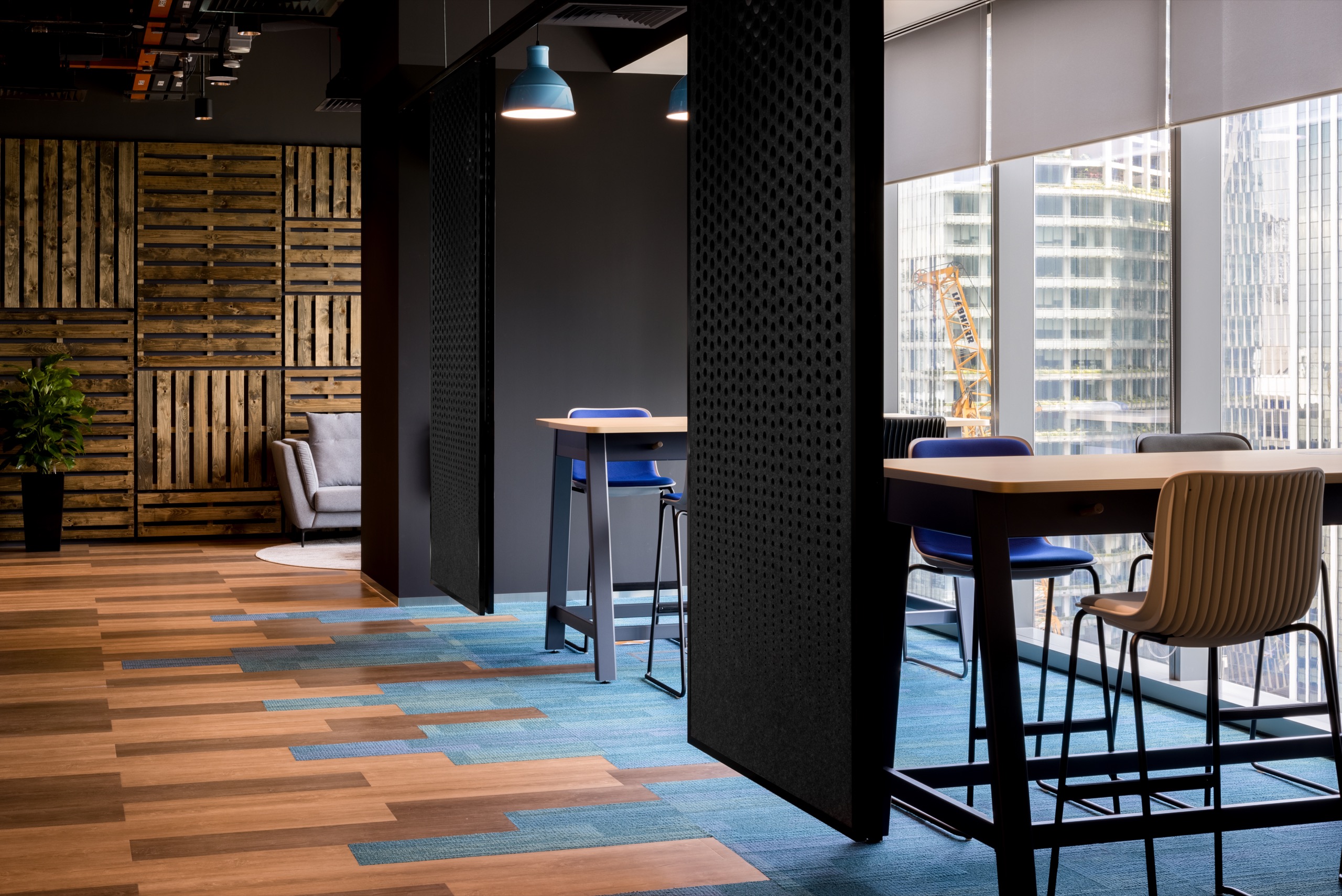 Collaboration hubs and touchdown spaces are scattered throughout the floorplate to empower employees to choose where they want to work depending on their task on hand. Interspersed within their three level office are fifty breakout areas and five big meeting rooms as well as open space discussion areas for employees to have casual discussions or brainstorming sessions.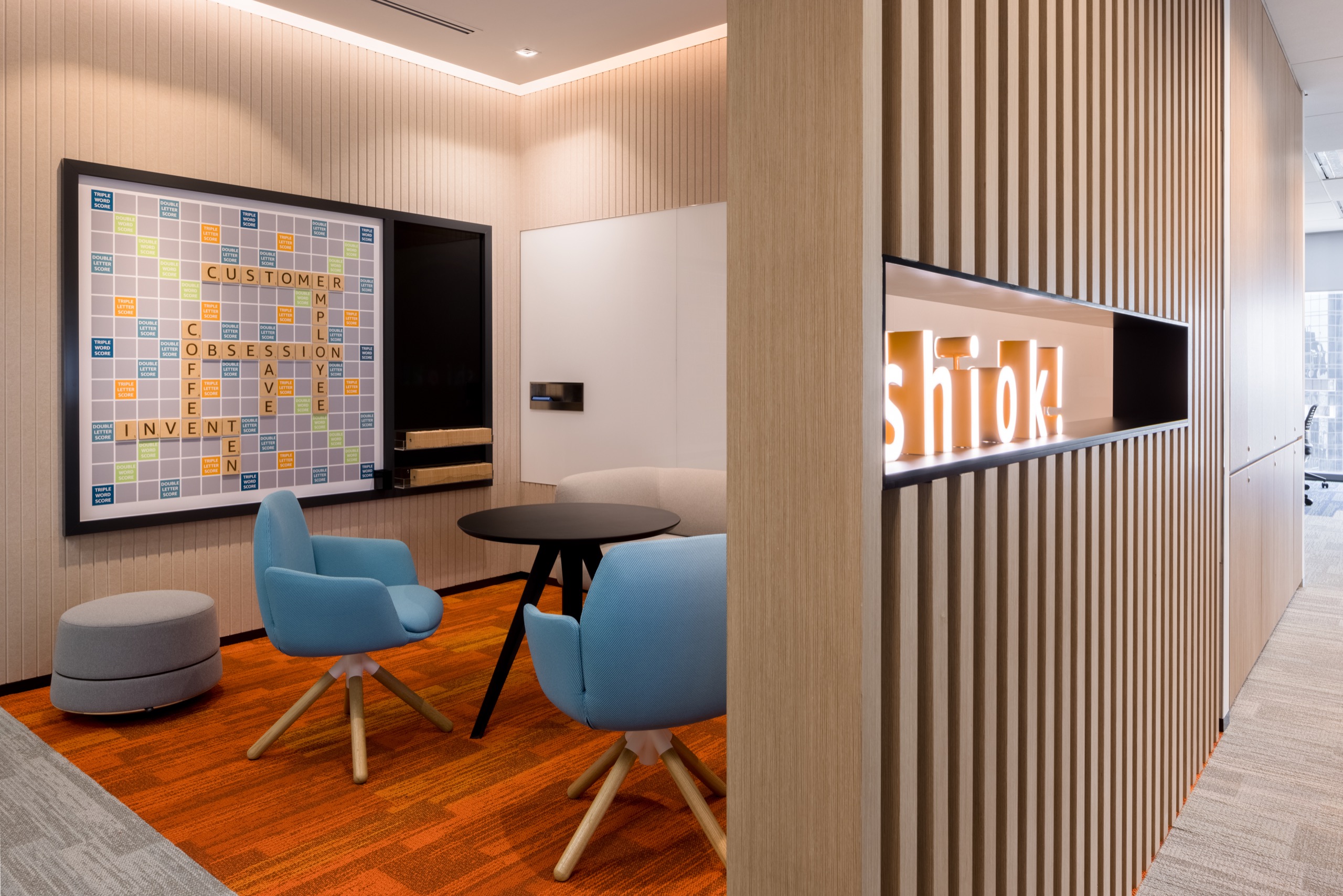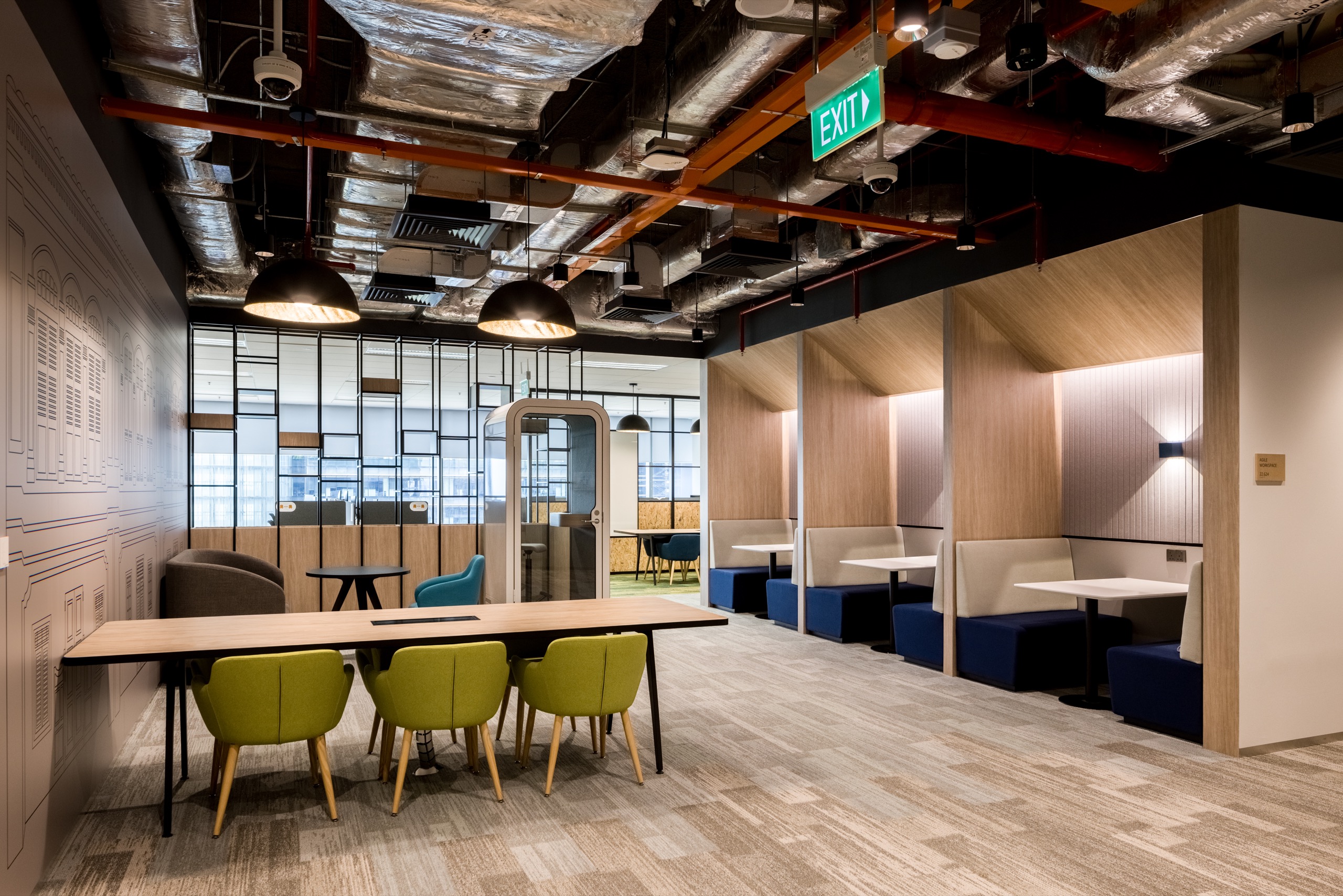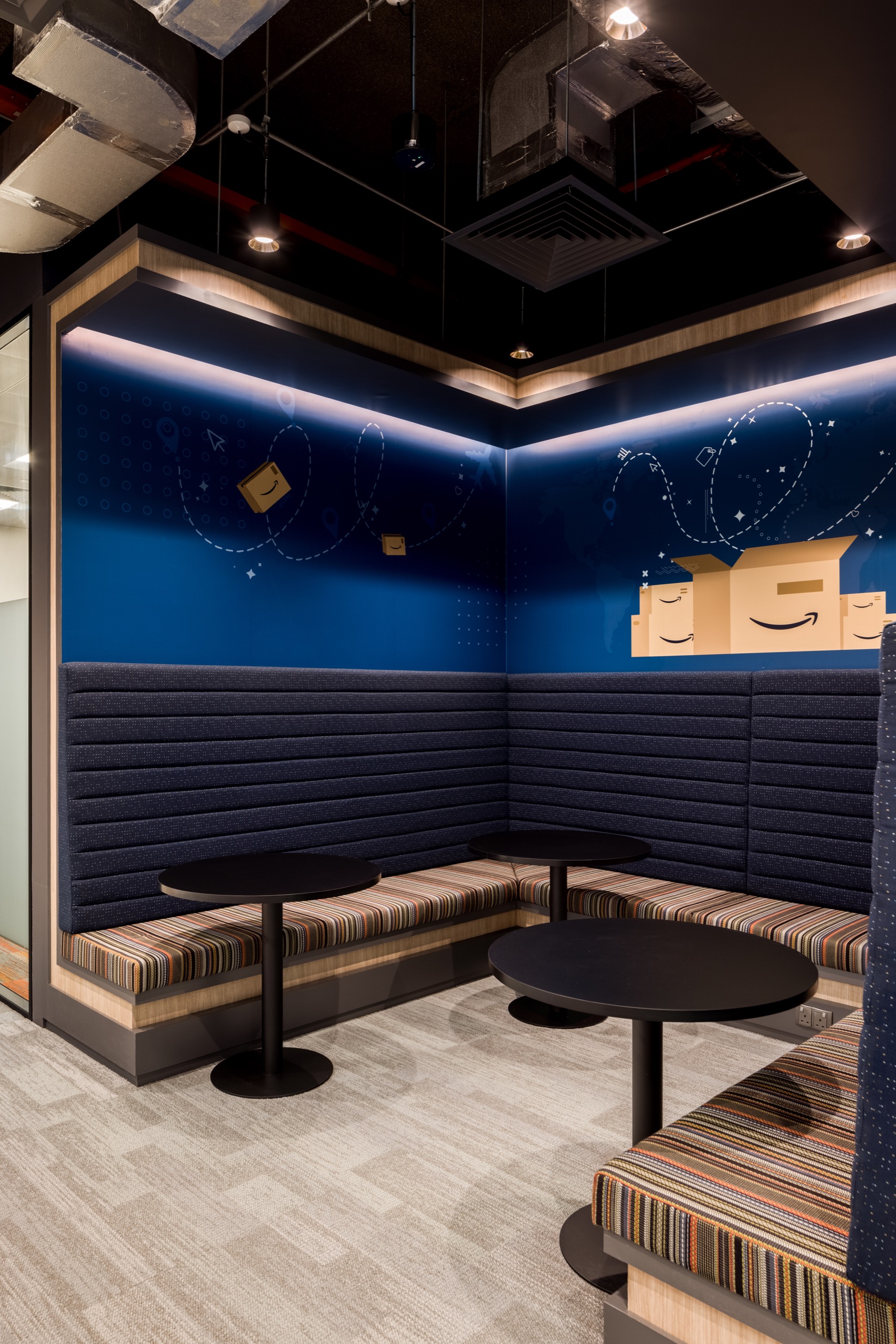 To facilitate a hybrid workforce, all meeting rooms and training rooms are AV/VC capable and are equipped with video-conferencing capabilities to connect with colleagues working remotely efficiently.
Engaging The Team
With multiple stakeholders present in the same office, recreational spaces were carved out to foster interaction and relationship building. Making good use of their ample wall space, activities such as scrabble, chess, snake and ladder and spin the wheel are mounted on the walls along corridors near pantry spaces and collaboration hubs. Foosball and billiard tables are also available for employees to enjoy an occasional match with their colleagues.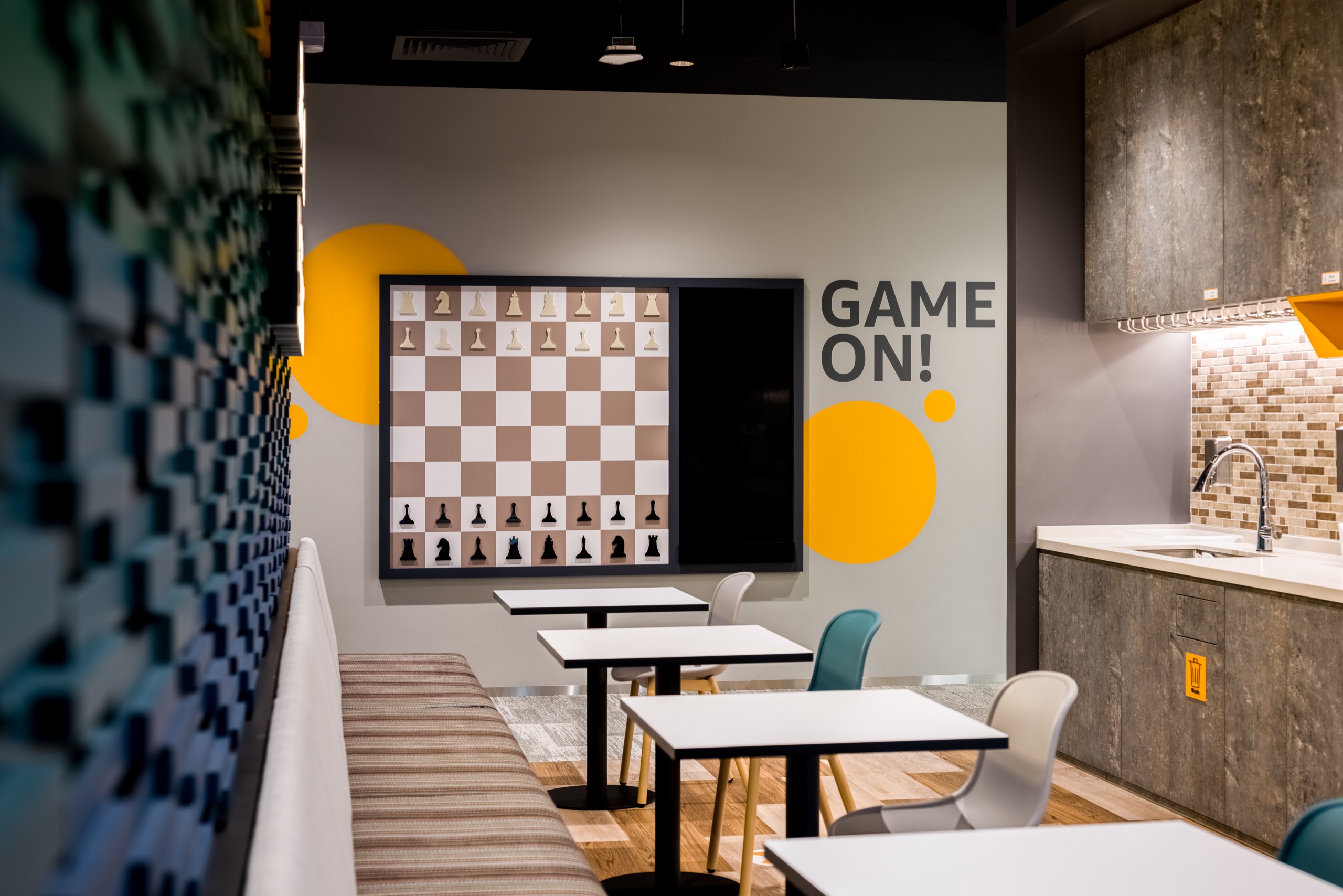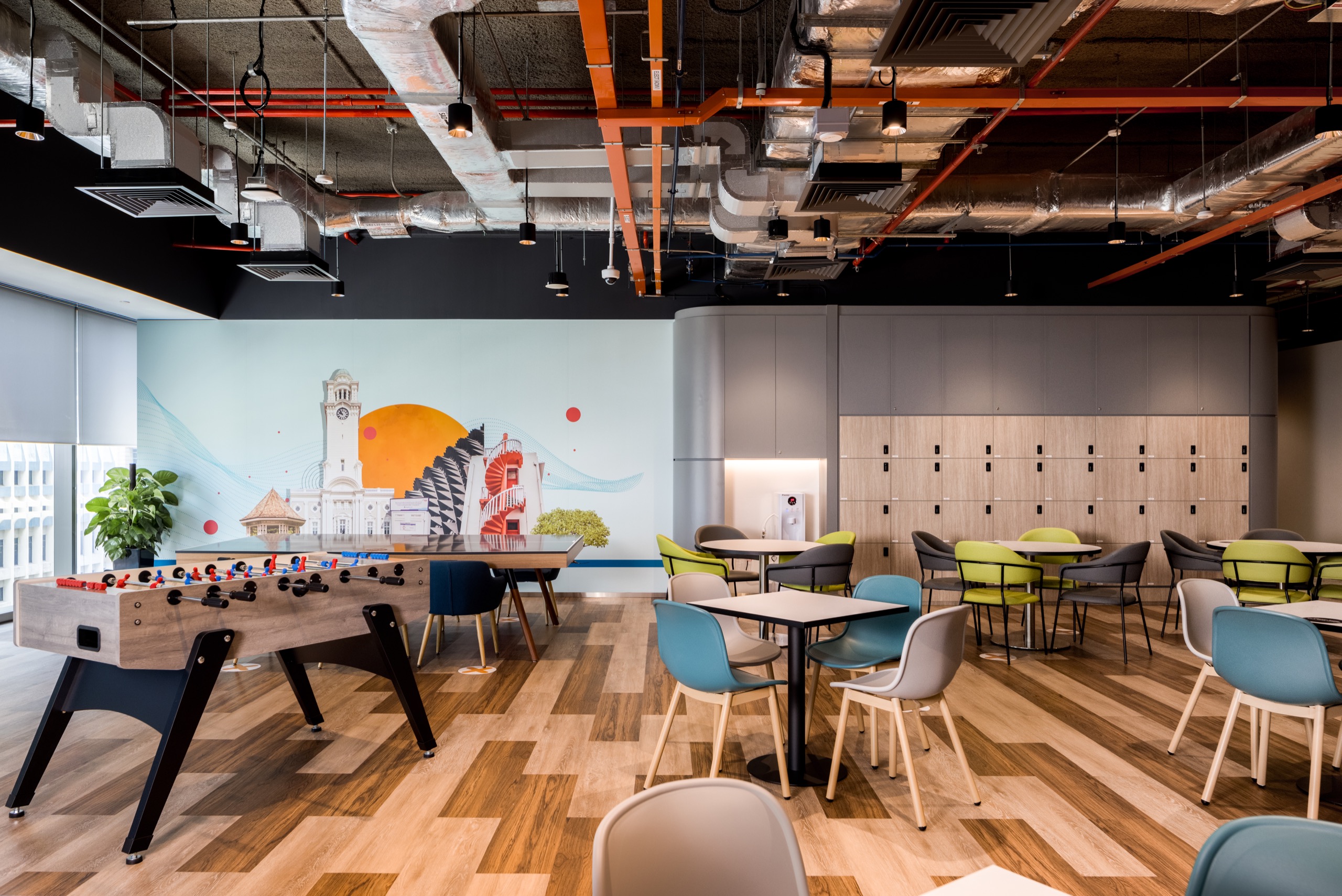 Growing Responsibly
Adopting environmentally-friendly materials for the design was one of the key goals of our design team. Thoughtful selection of carpets made from sustainable material, use of low VOC paint, recycling bins placed around the office, and zoned lighting for energy efficiency – all in line with Amazon's sustainability efforts around the world. These efforts have earned Amazon their first LEED Gold award in Asia.