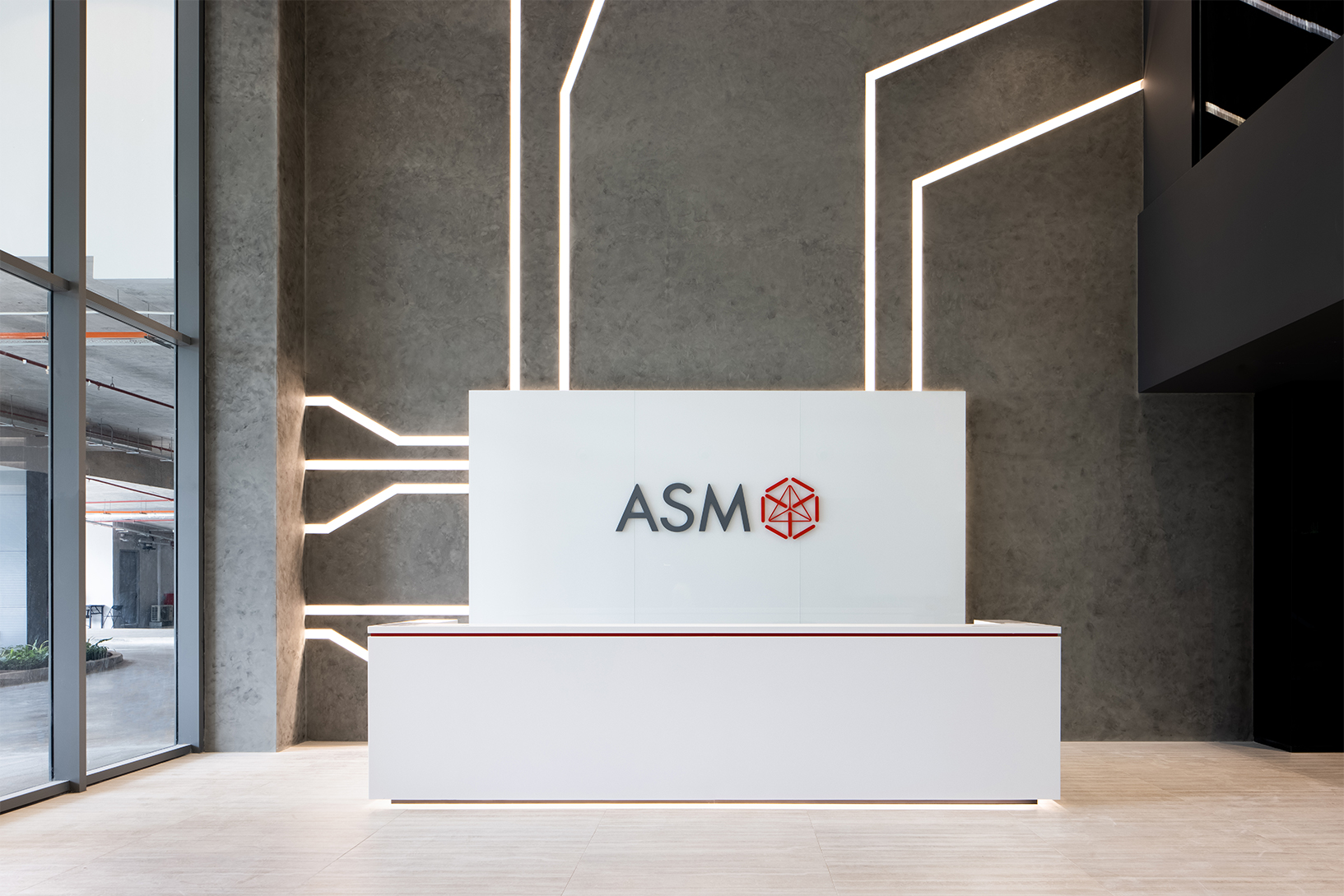 Keeping in mind their plans for growth in human resource, they leveraged on the opportunity to review and implement a change management strategy to future proof their workspace. ASM set out to create agile, collaborative and flexible spaces which can cater for activity based work and future expansion.
As design conceptualization and space planning of the appointed workspaces had to commence while the construction of the physical building was still in progress, it was imperative for ASM to engage partners that were experienced in handling pre-TOP projects. Alongside DB&B, a workspace strategy consultant was engaged to carry out workspace studies. DB&B collaborated with the workspace consultant to interpret and manifest the space standards, incorporating them into the initial space planning.
ANCHORING THE BRAND
The design team also worked closely with ASM to understand the brand and their goals of internal marketing. To ensure that everyone has a visceral experience of ASM's new branding elements, DB&B thoughtfully peppered the space with accent colours such as pink, yellow and orange to align with ASM's newly-launched brand guidelines. Similarly, diagonal weaving patterns inspired by the ASM logo are applied throughout the workspace on walls, counters, carpets and even ceiling designs.
A BRIGHT WELCOME
Upon arrival, guests at ASM are greeted with an impressive double-floor glass entrance leading to their reception area. The illusion of space at their reception area is created by natural light spilling over from its glass entrance as well as the high ceiling. Guests are also subtly reminded of ASM's expertise through the clever design of the feature wall inspired by a circuit board which doubles up as ambient lighting. Paired with an elegant solid-surface reception counter, this backdrop extends across both floors to the mezzanine level, where guest meeting rooms and training rooms are located.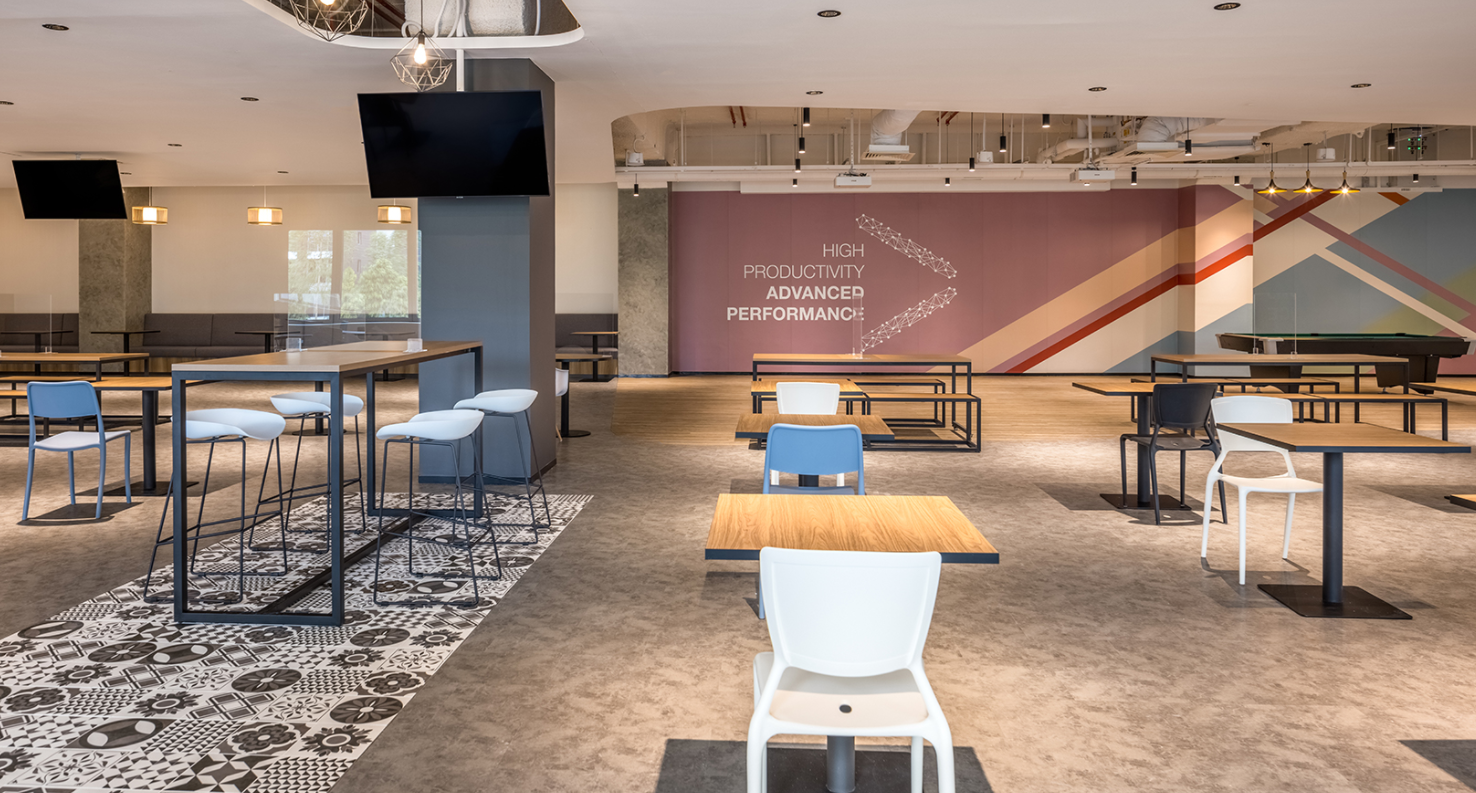 VIBRANT CONGREGATION
The café is an impressive space which can accommodate ASM's growing workforce. Such spaces, once thought of as just a space for meals, have now become alternatives for townhalls, collaboration, and socializing. Seating options are plentiful – ranging from long communal tables to high benches and booth seating. To offer spatial demarcation, DB&B playfully mixed accent tiles with vinyl flooring of different colours to create zones. A pool table and table tennis table are also thoughtfully accessible for employees to recharge their minds.
WHERE AGILITY MEETS TRANSPARENCY
ASM's main office space occupies the entire fifth level of the building. To promote agility in the new space, ASM's management team led by example to shift from traditional, assigned workstations to be part of the open office. This promotes transparency within the organization and encourages effective communication between managers and their team, who make up the key building blocks of the organization.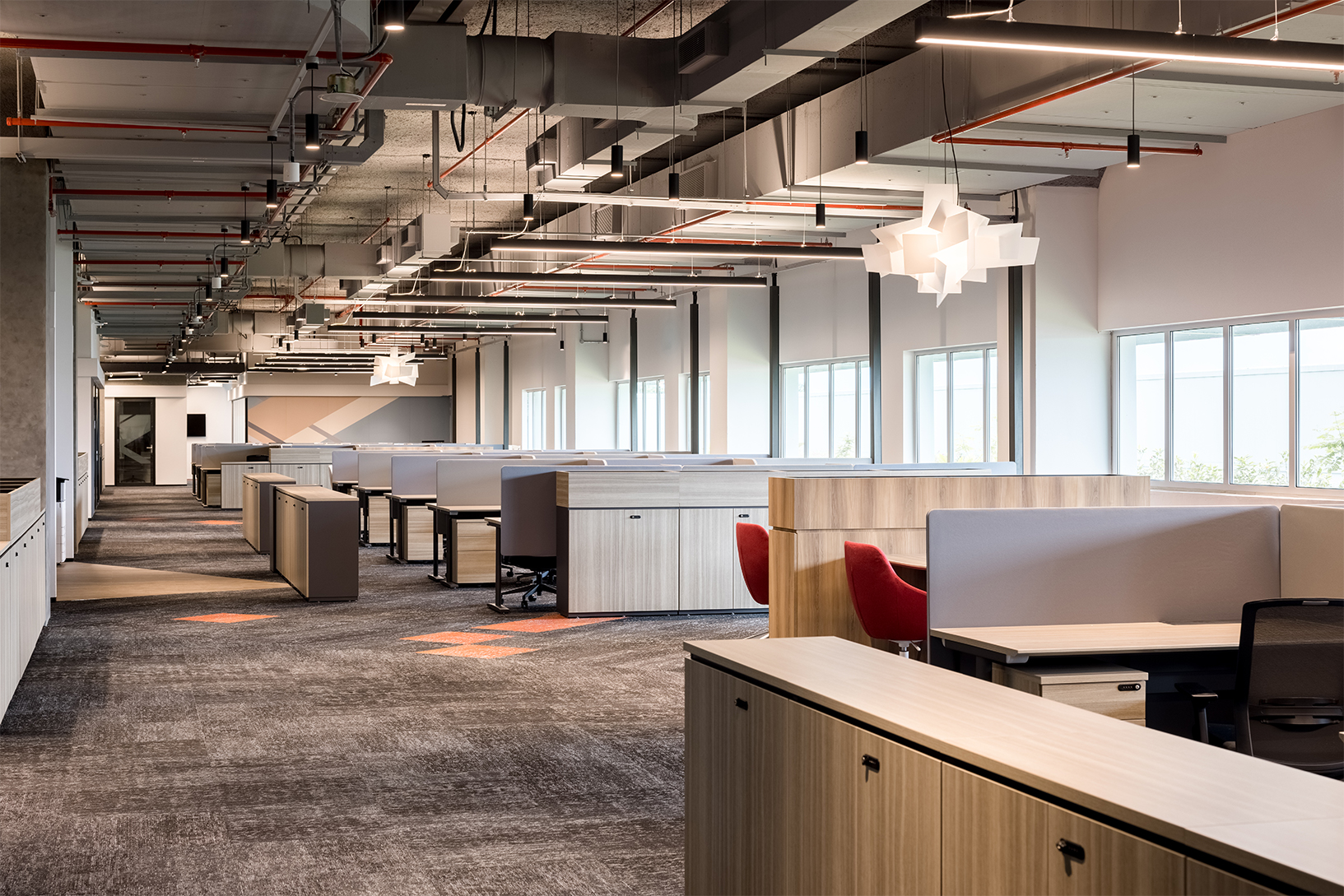 Considering the number of people that would be sharing a large and open office space, ASM decided that they would adopt a "neighborhooding" concept in most areas. This practical concept segregates the big space into self-sufficient zones with their own amenities such as mini pantries, meeting rooms, huddle spots. By having these resources nearby, employees are equipped to work efficiently and are motivated to collaborate and 'live' together in the neighbourhood.
FINDING THE SWEET SPOT
In each neighbourhood, bench-style workstations are generously available. These workstation tables are manufactured by DB&B and are separated by acoustic board panels that serve the dual purpose of providing privacy and absorbing echoes. To build layers of privacy within such open office environments, private meeting rooms of various sizes are also erected along the perimeter of the floorplate. DB&B also incorporated several sanctuary spaces with luxurious enclaves that offer solitude and a quiet place to focus.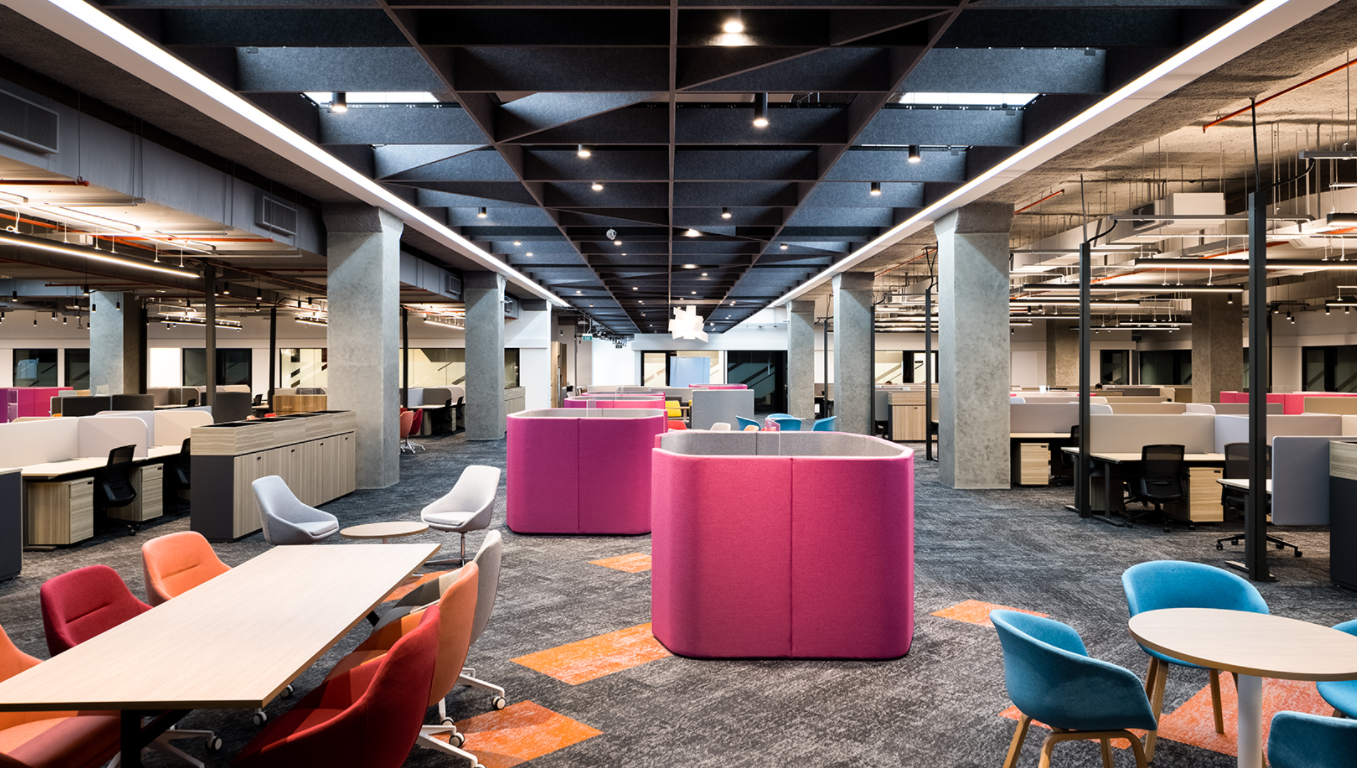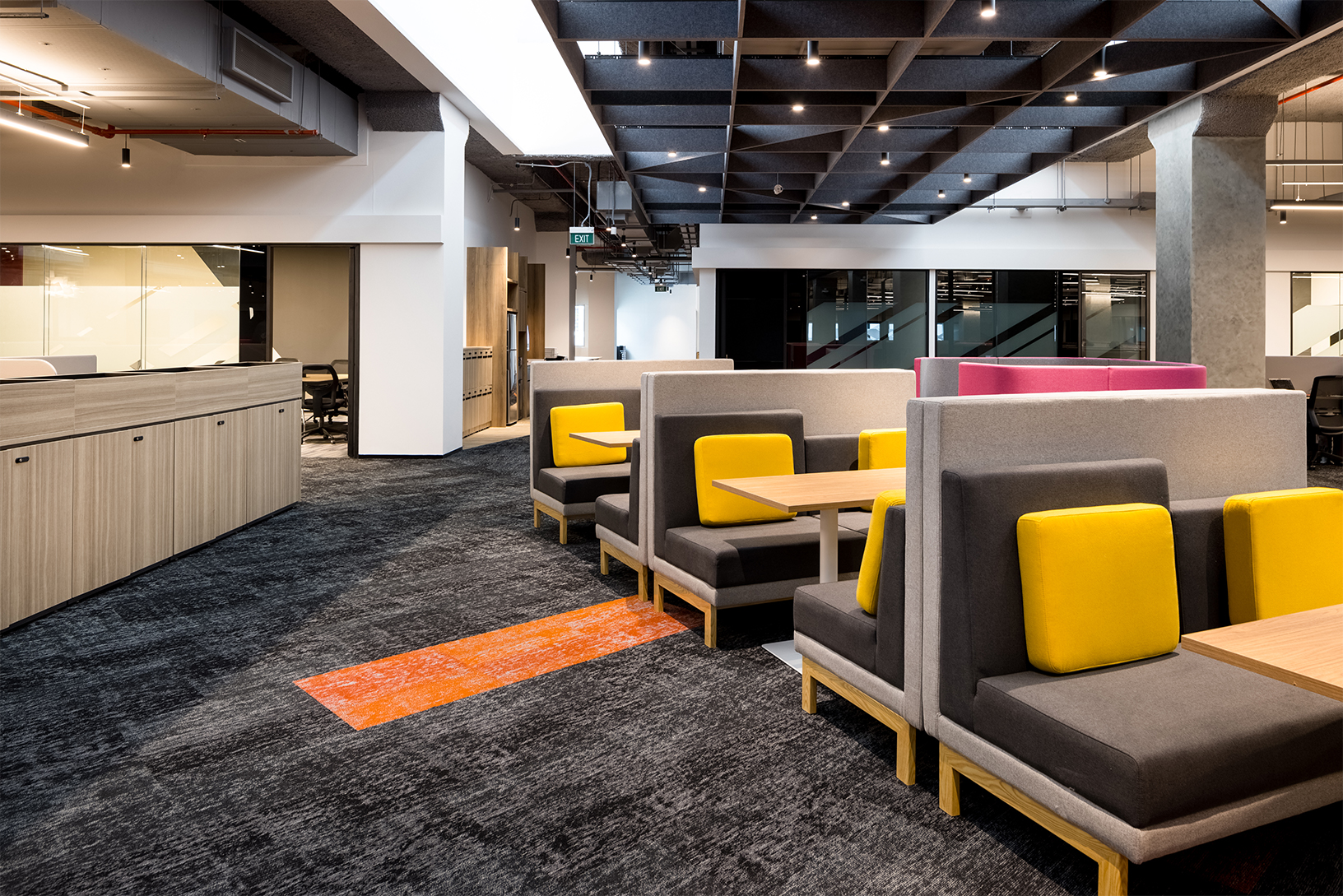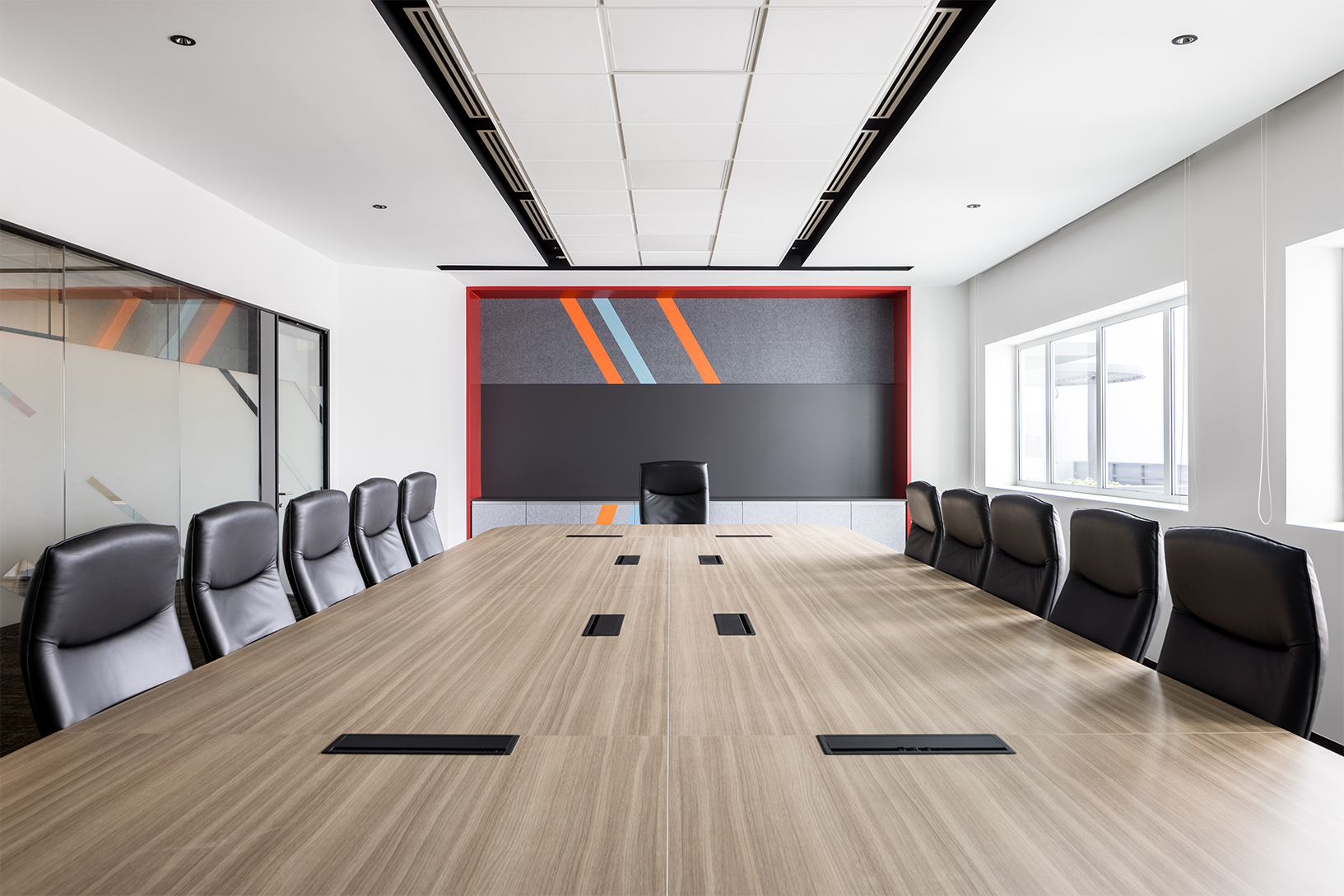 THE STRIKING EXCHANGE
The clusters of work desks are separated by a striking aisle of colorful collaborative workspaces that which is aptly named the 'Exchange'. This 'Exchange' offers a fun variety of seating types for different group sizes to come together for discussions. Being the top level of the building, this space also enjoys natural light pouring in through a niftily designed skylight and acoustic ceiling design situated right above.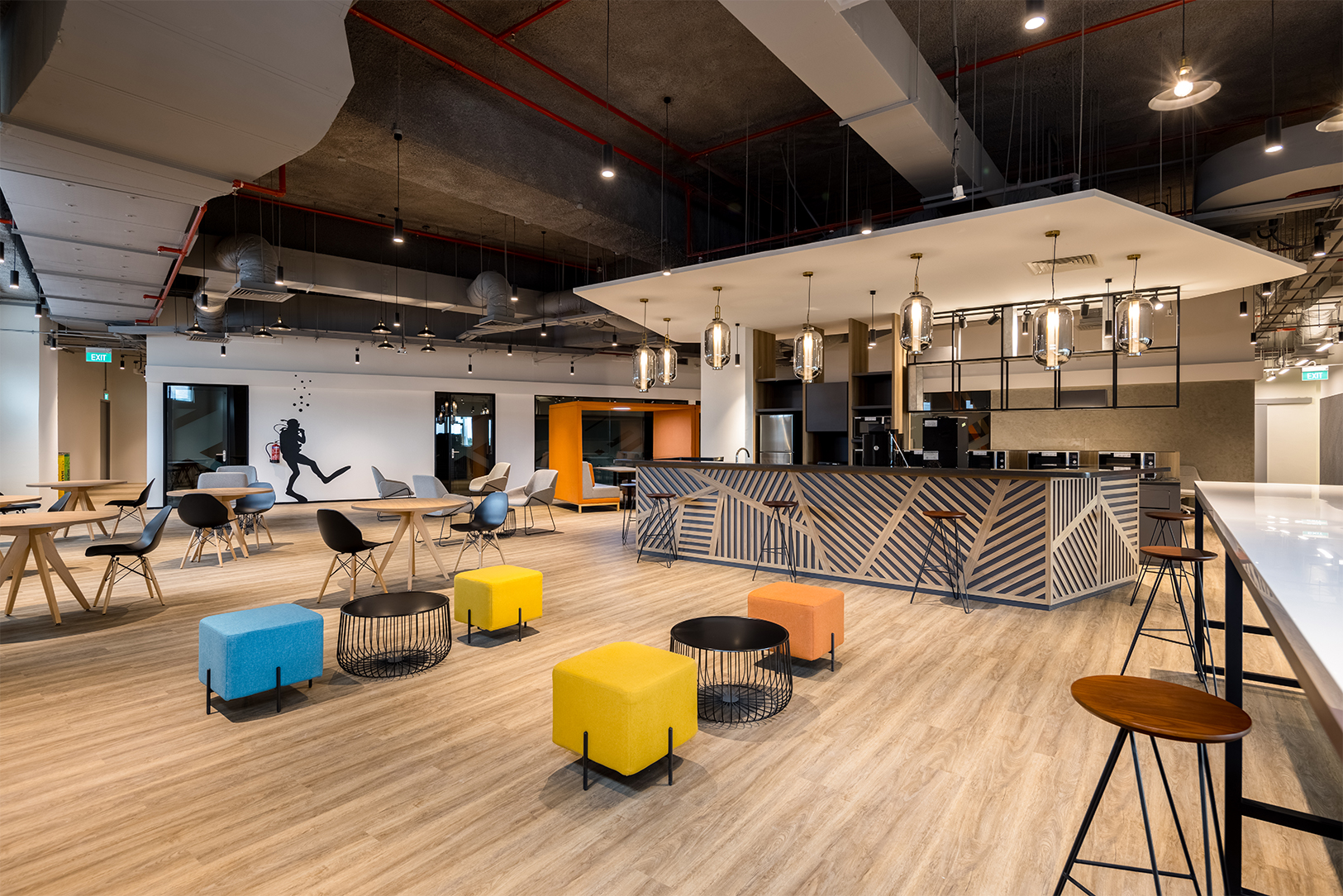 RELAX AND REJUVENATE
While smaller pantries are located near the work stations for a quick coffee or water break, tugged at the east wing of level five is an idyllic café pantry. This area plays host to a huddle space for brainstorming or smaller townhalls. This fully equipped pantry features a bar counter partially cladded with wooden paneling to create geometric stripes lined up diagonally, once again reflecting elements of their logo. The pendant lights hang in a decorative manner over the counter to create a relaxed scene, offering a respite from work within the office.
THE EVOLVING WORKPLACE
The ASM workplace is a representation of how work and work settings have evolved. Next generation workplaces have to be designed to support people, promote wellbeing, improve flow of information, promote creativity and drive team camaraderie and social interactions.
"We are deeply honored to be involved in ASM's change management planning and implementation. In this state of rapid transformation in workplace dynamics, we are focused to design and build a resilient and future-proof workplace for our clients." says Jeanette Siew, Executive Director of DB&B.