FIRST IMPRESSIONS
While stepping out of the lifts, it is easy to identify the main entrance of the office – an eye-catching moss wall warmly greets everyone that comes in. This feature wall makes a statement against the pale-coloured palette of its surroundings. On the left of the moss wall is an elegantly sculpted solid surface tiered reception desk which serves to welcome both standing and seating guests.
Located near the reception desk, the waiting area for guests is distinguished by a luxurious carpeted floor and generously wrapped in wooden cladding flowing from ceiling to the walls. This space is further accessorised with recessed downlights, soft leather seats, a marble coffee table and a large TV screen.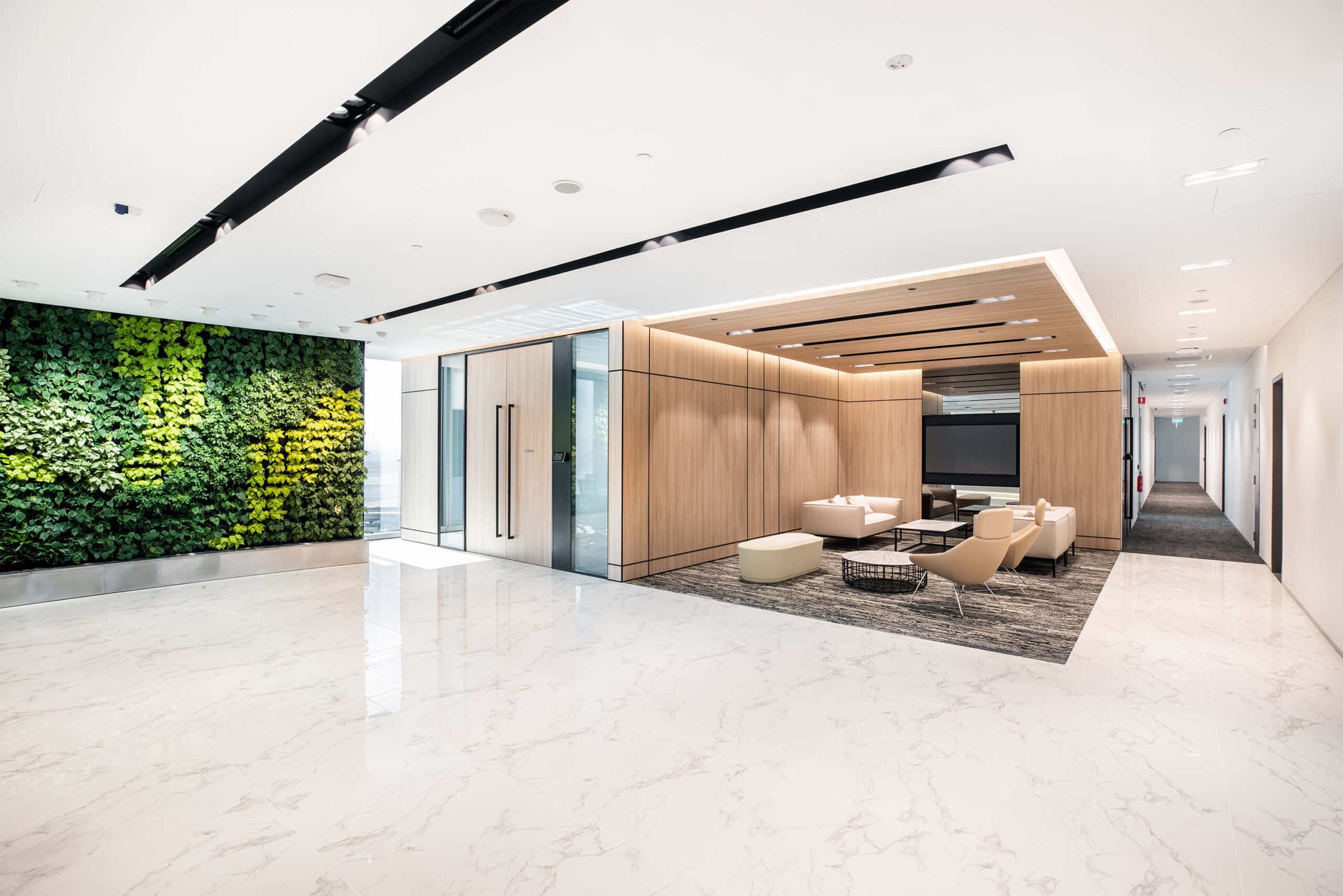 Parked behind the waiting area is a board room that can accommodate up to 20 pax. The design of the recessed ceiling cleverly mimics the shape of the bespoke meeting table right below it, creating a line of symmetry between the two elements, thereby achieving balance in the design and delivering a visually comfortable space. The full height windows allow meeting participants to enjoy the unobstructed and breath-taking view while taking a break from a formal discussion.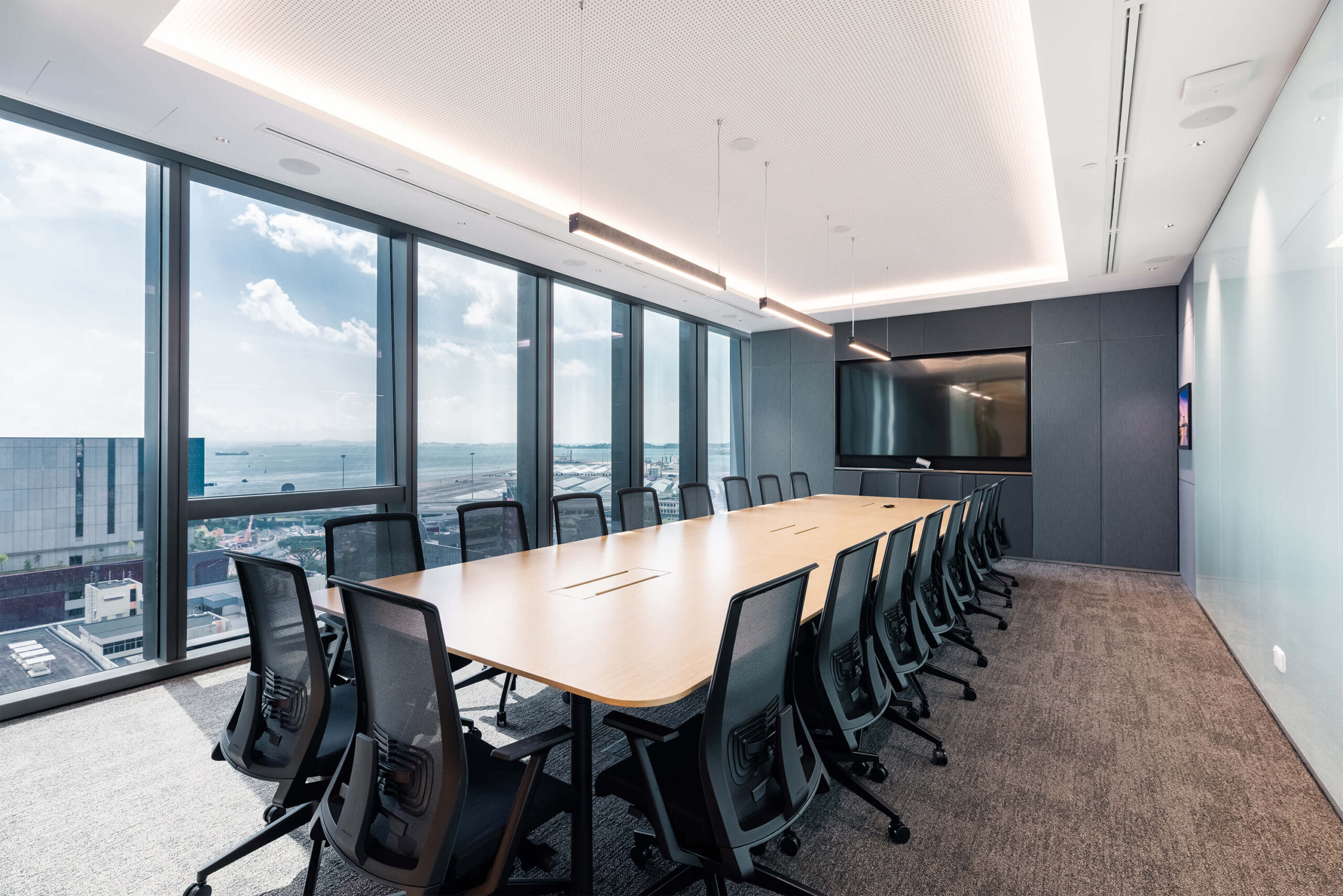 WITHIN REACH
With employee wellbeing at the top of our priorities, pantries are well-spread across the level to increase accessibility to amenities. The dual-coloured wooden carpentry lends a classy and timeless look to the area while fulfilling its function as meaningful and durable storage spaces. Pops of colours are incorporated into seat cushions to add a little vibrancy to the area.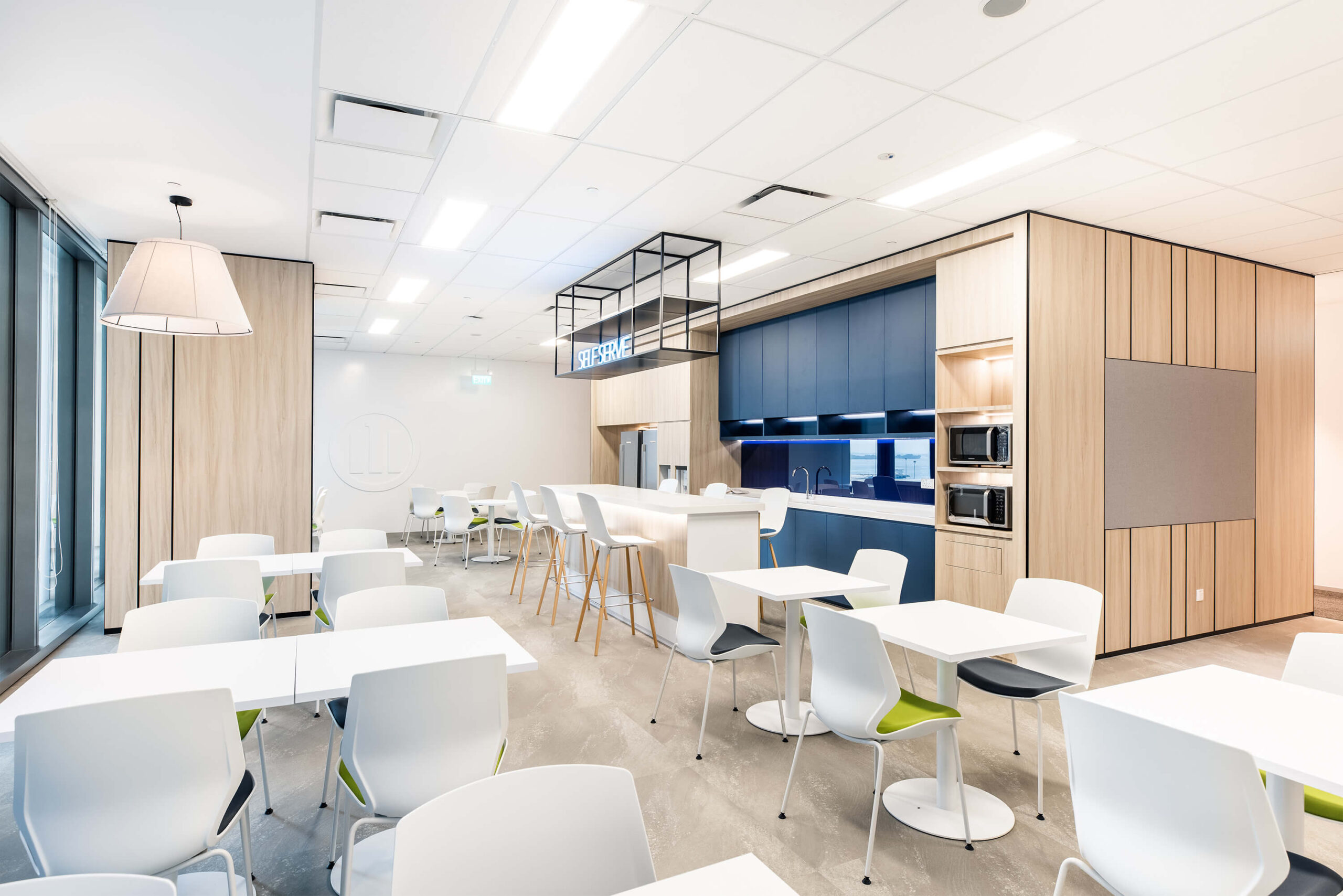 These pantries serve as a respite from work, and a welcoming communal space accessible by various teams nestled in various sections of same floorplate. By creating pockets of similar spaces, we introduce opportunities for interaction and maximising possibilities of connection.
THINKING FOR THE USER
Creating a user-centric work environment was the key driver to the design of the back office. It is important to create a variety of work settings and privacy levels to integrate individual needs with work environments. With the user in mind, height adjustable desks are also used in place of traditional workbenches to improve ergonomics of the employee. Noise levels between benches are well managed by acoustic boards that also conveniently act as personal bulletin boards for quick references. Should one need to pull away from their desks to answer a private call, photo booths are readily available near workstations.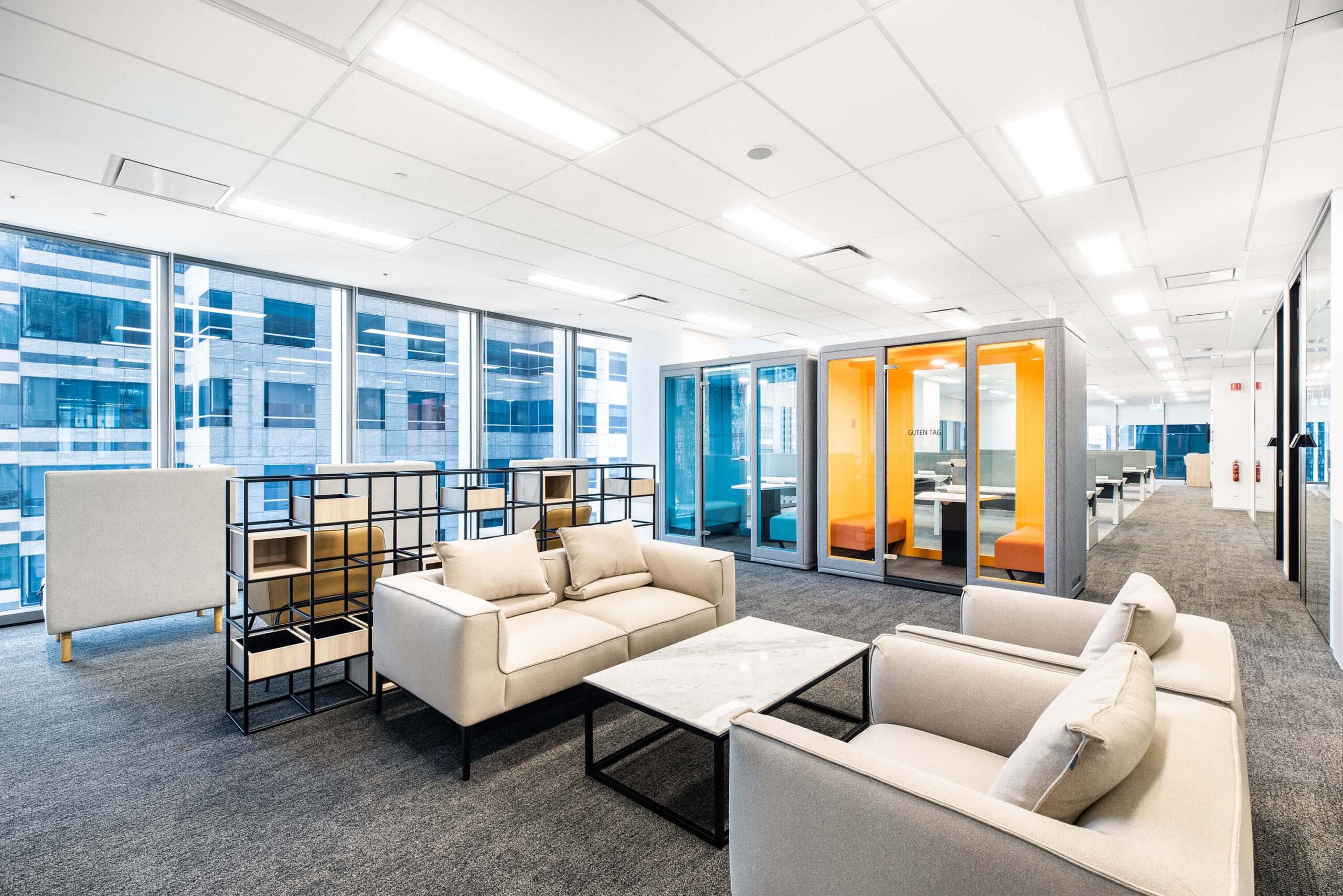 Pockets of collaborative spaces are also located along the perimeter to maximise access to natural lighting and 180-degree views, enhancing spatial experience and driving creativity and innovation. Seating options in such spaces are aplenty, ranging from bar seats and counters, couches and armchairs with coffee tables, to pouf seats and stools.
Private meeting rooms take on two different styles – casual and formal settings. Casual meeting rooms showcase a mix of lounge chairs, desk chairs and a sleek counter which can hold laptops for discussion. Other meeting rooms are equipped with a centralised meeting table and ergonomic chairs for formal discussions. These rooms are also fitted with smart video conferencing hardware to support meetings with global offices or external partners.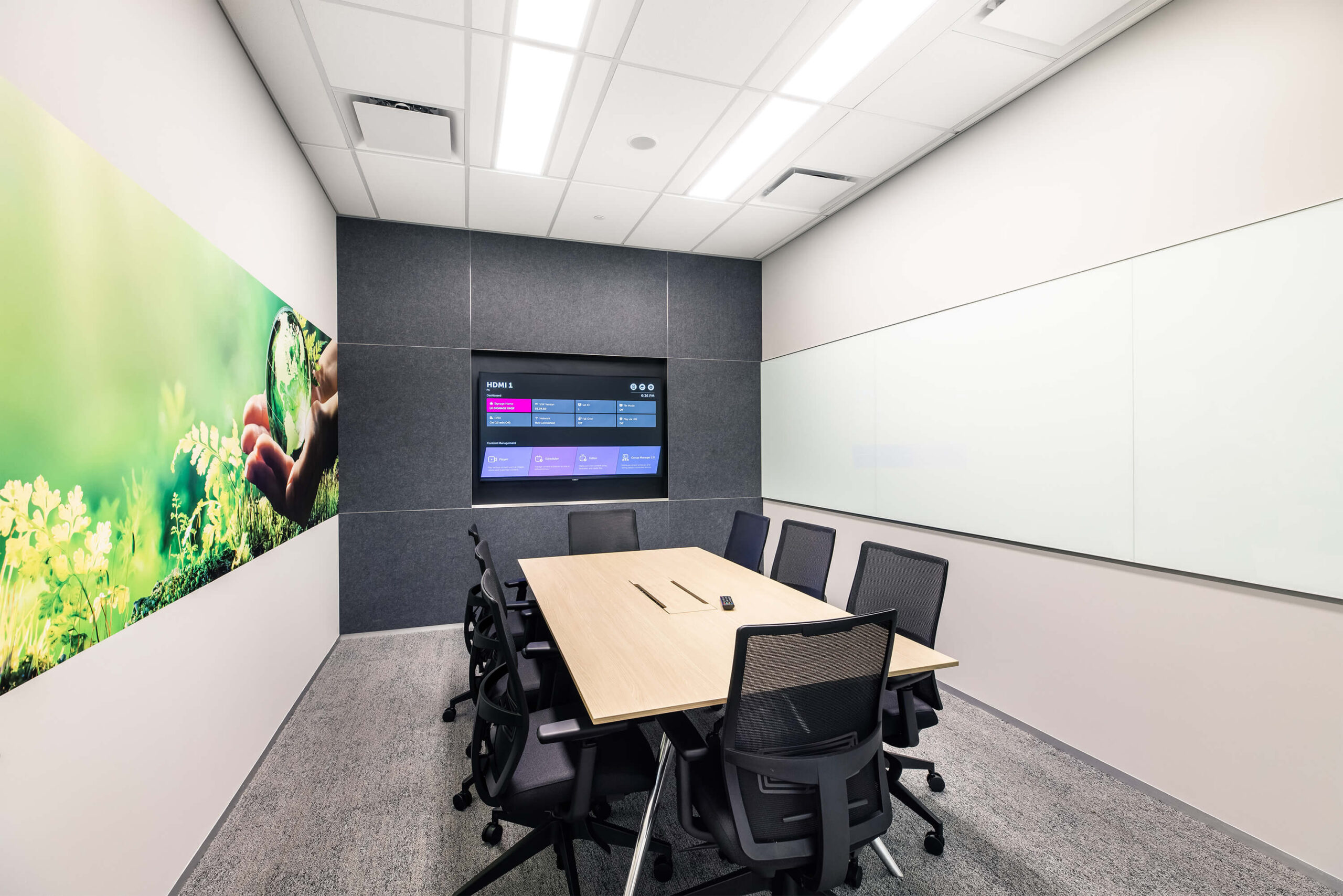 COVERT COLLABORATION
As companies seek to resolve challenges brought by a scattered workforce, good workplace designs that facilitate collaboration and communication play a major role in providing the right motivations for the teams. For this client, their new office design strikes a perfect balance by assigning ample spaces to the respective business units while creating common spaces for collaboration to take place.