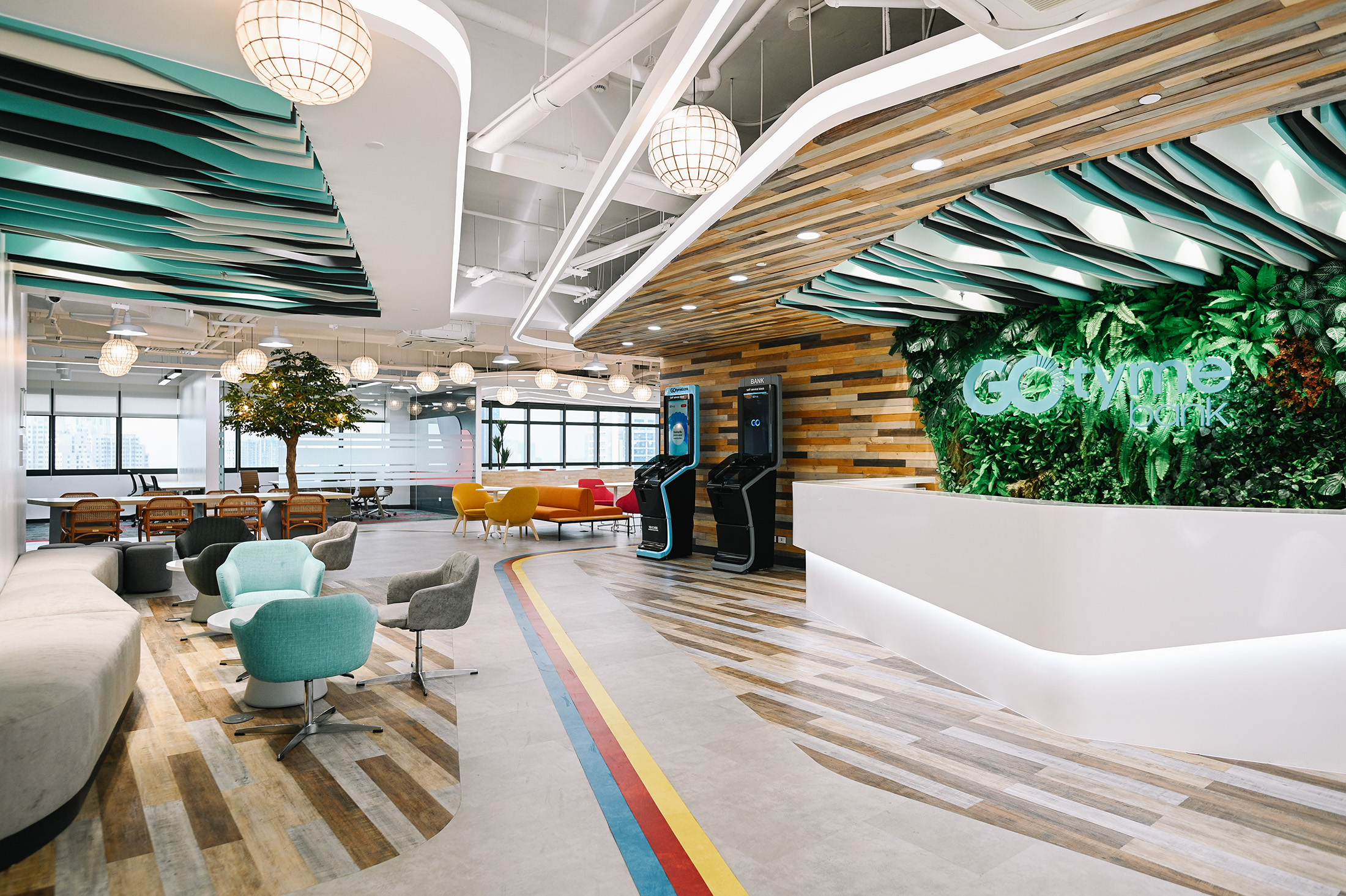 After a full year of hosting their employees at a co-working space, Philippines digital bank, Gotyme, recently took over the floorplate at Ortigas Center to build a place of their own, The DB&B team worked closely with their team to identify the key priorities for their business, such as user experience and to exude a professional and reliable brand image. With this understanding, the design of their office sought to express the same goals.
THE WELCOMING EXPERIENCE
This welcoming zone is dressed with a luscious moss wall backdrop, hosting the company's logo. The backdrop is set against a timber surface pieced together with slats of different colours, and this design extends to the ceiling, and is paired with matching vinyl flooring, creating textures and injecting vibrancy into the space. The clean white wall at the side with geometric cut-outs also serve as lighting for the space, offering a futuristic experience to guests and employees that step in.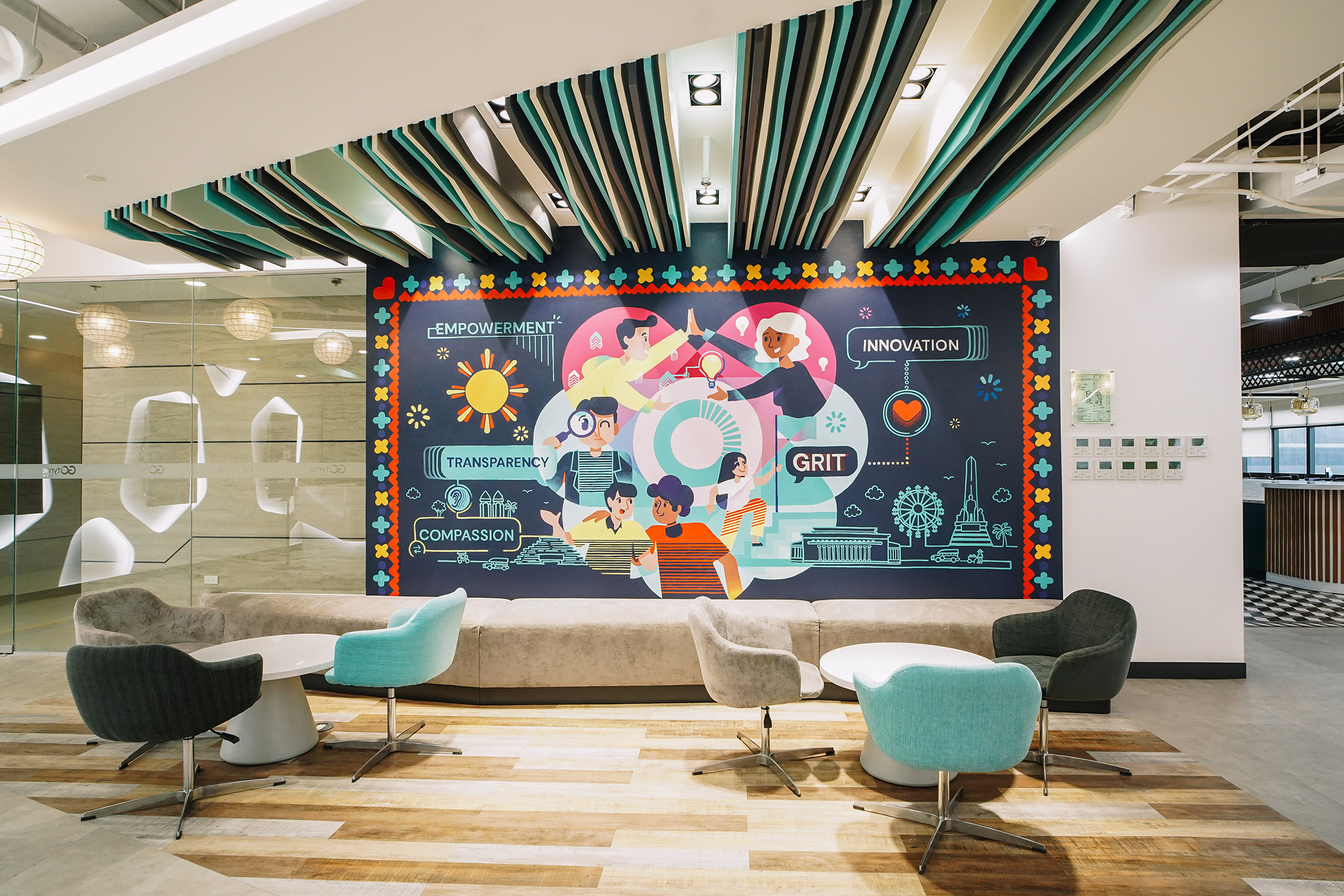 Designed to be a customer-centric arrival zone, two digital banking kiosks are placed next to the reception counter so guests can help themselves to quick transactions. A lounge space is also carved out opposite the kiosks to allow customers and guests to wait in comfort while appreciating the sophisticated design within this space.
CONNECTING THE SPACES
Studying the work styles of their various departments, the layout of the space was planned to support their business models and dial up productivity. For Gotyme's sales team, it was important for them to be located near the entrance in order to attend to customers promptly. Understanding that an agile work model works best for them, DB&B created an open collaboration hub with a multitude of work settings for the Gotyme team to move around during the workday.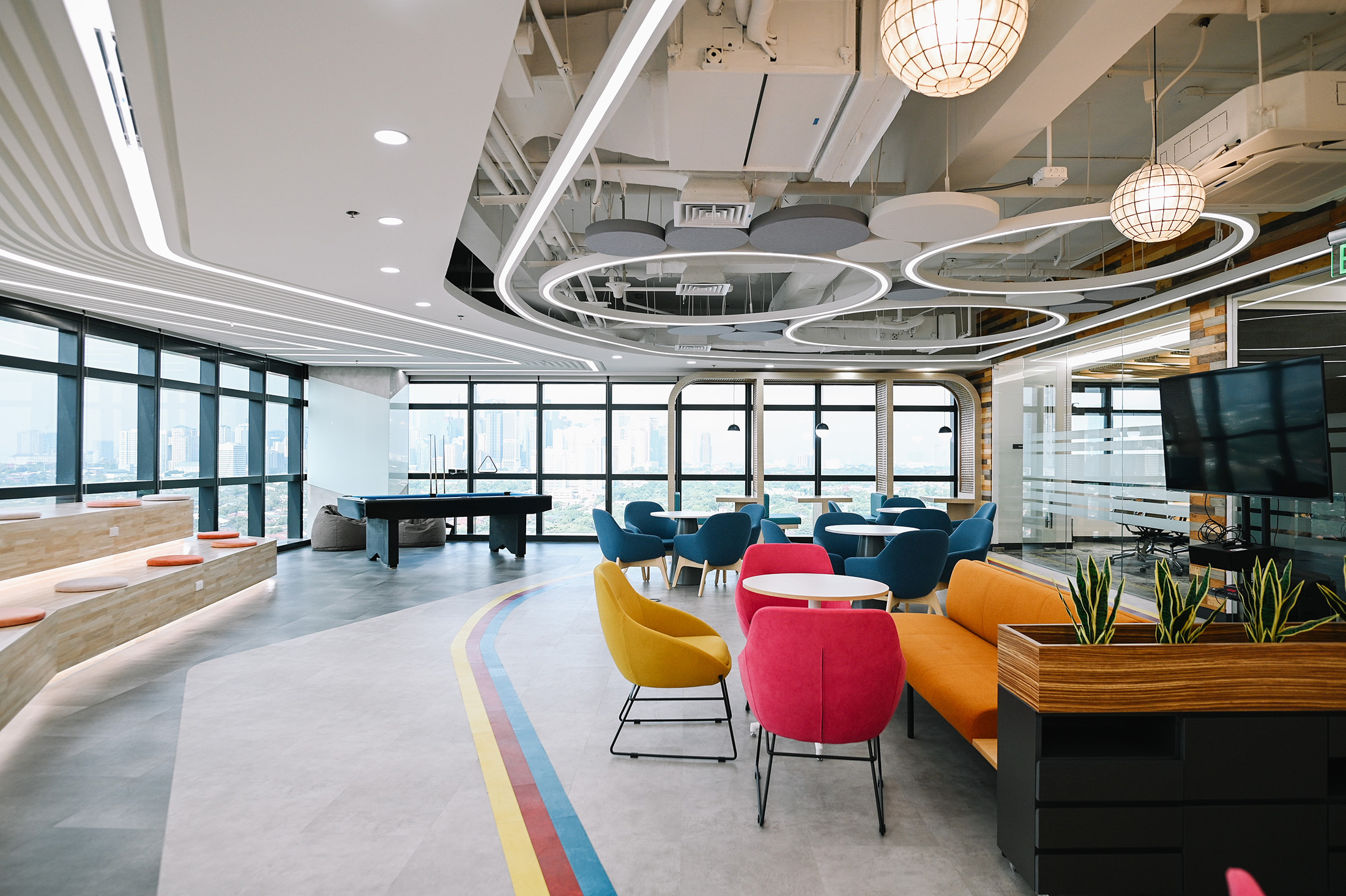 To facilitate company events periodically, this open collaboration hub can be transformed into an open space for parties and townhalls. This is made possible with the use of movable furniture that can be stowed away or reconfigured easily based on the occasion. Amenities such as a fully equipped pantry is also thoughtfully carved out next to this hub.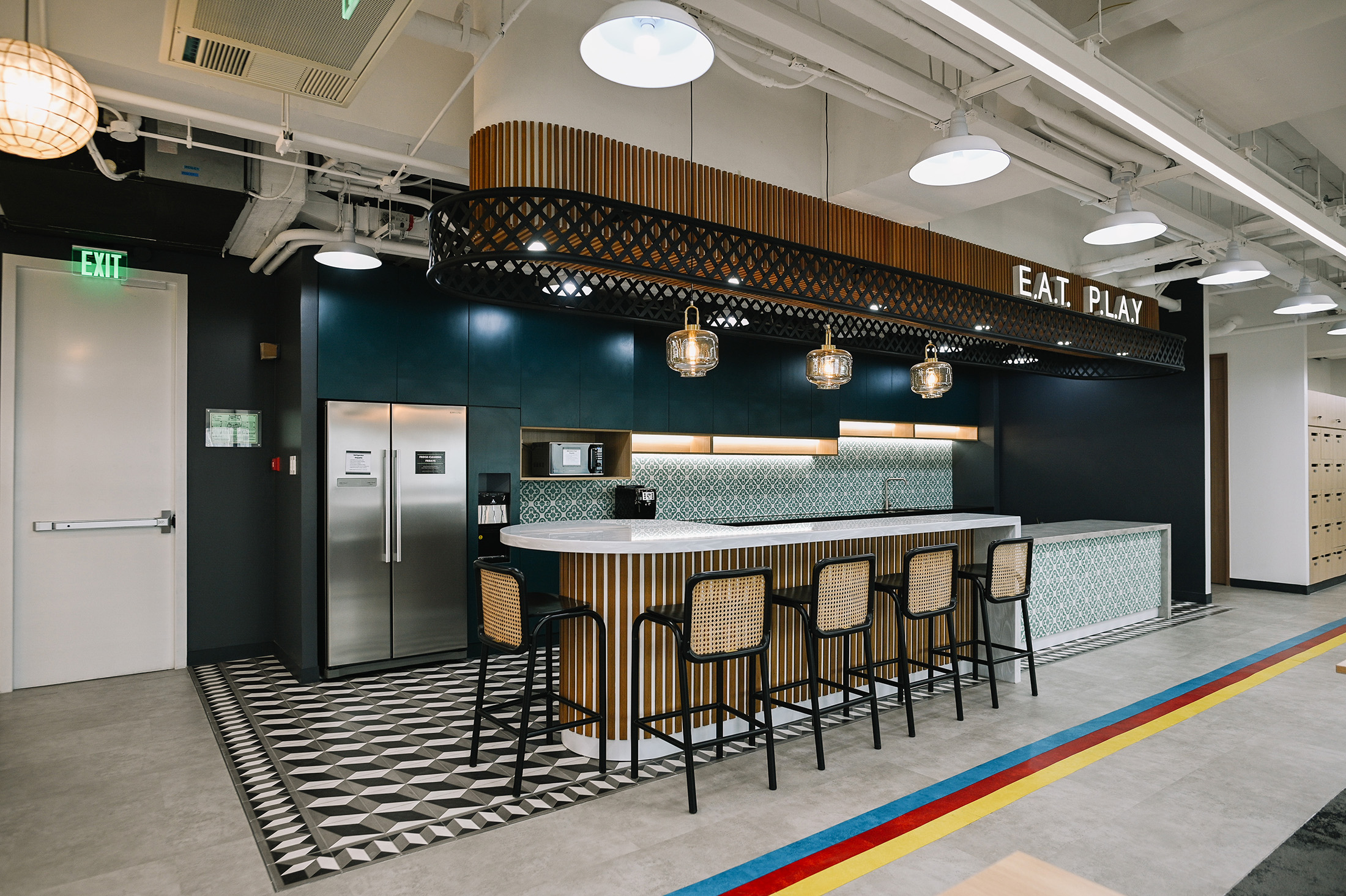 Similarly, for the finance team who requires a higher level of privacy, a space is allocated at the back office, with acoustic panels separating each desk to protect privacy.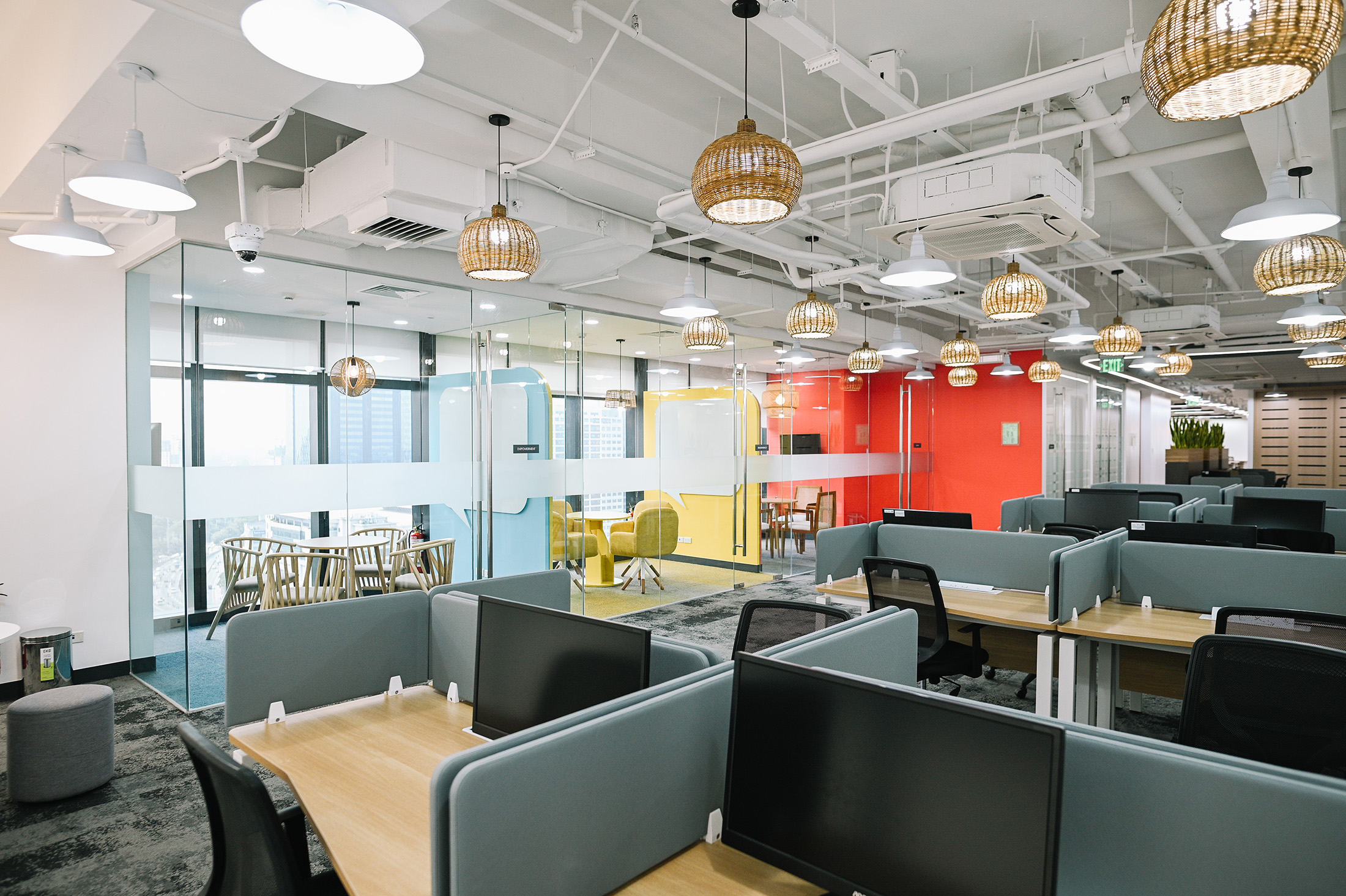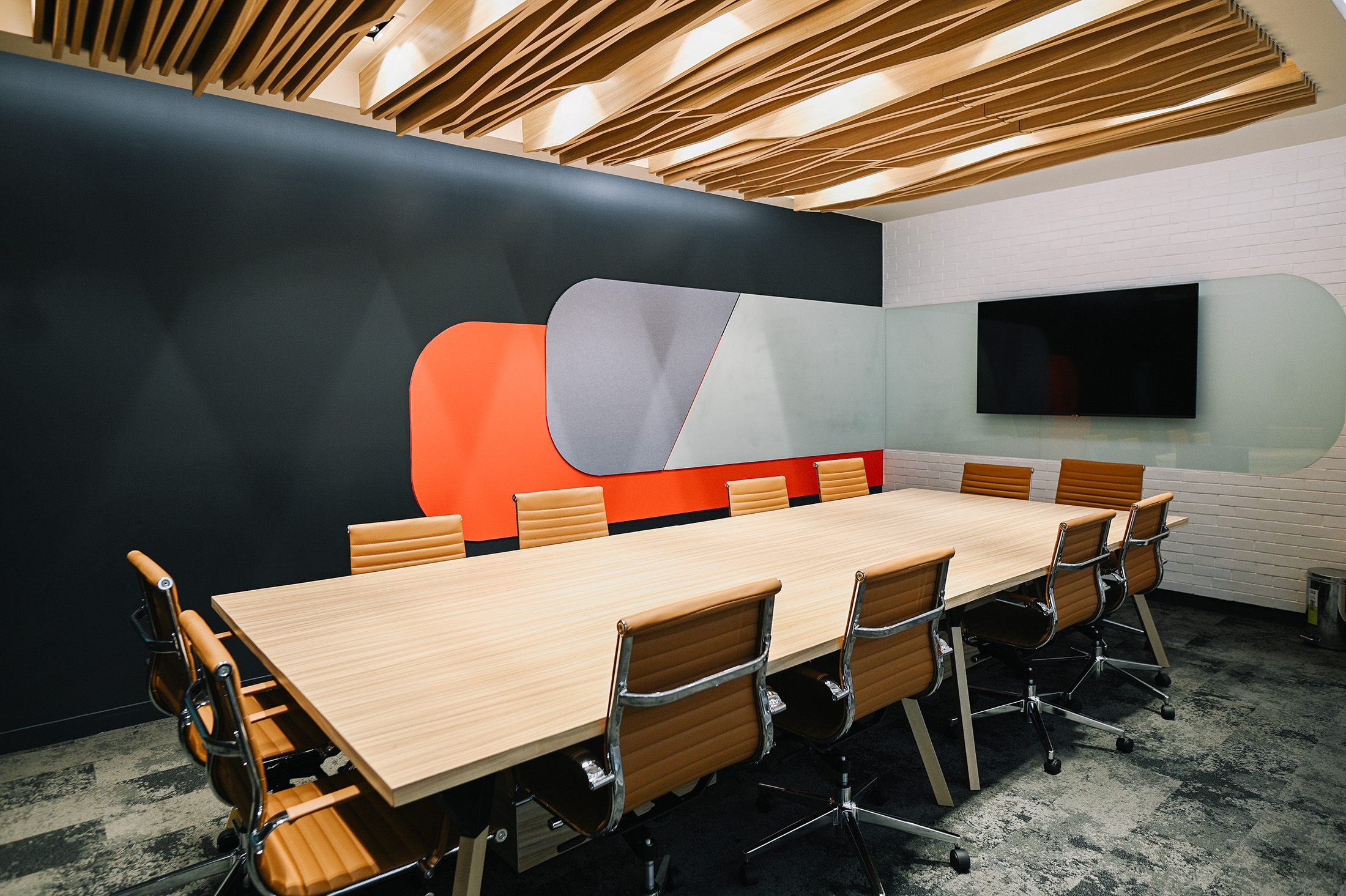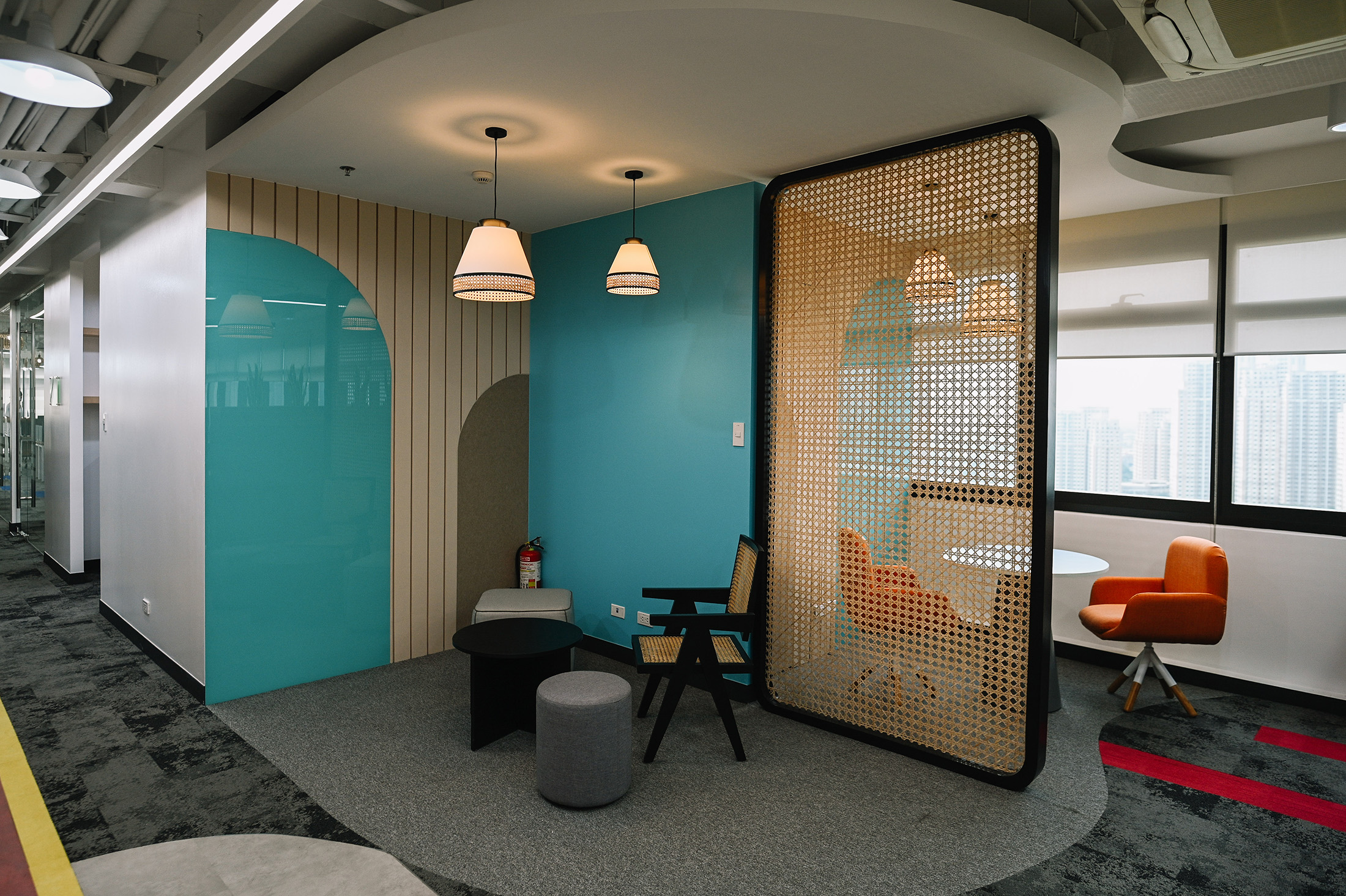 Apart from the open discussion areas, private meeting rooms and semi-private huddle spots are also found around the office to support different modes of discussions. Lining the perimeter of the office, these spaces enjoy unblocked views and natural light from their full height windows, stimulating the mind for brainstorming and sharing sessions.
THE RAINBOW CONNECTION
It was imperative that employees feel engaged and connected to this new workplace that truly belongs to them. To fulfil this, a key design element incorporated into the space was a 'rainbow track' that leads the way from the front office to the back. This track is made up of Gotyme's corporate colours – building the sense of identity employees would experience as they journey deeper into the office.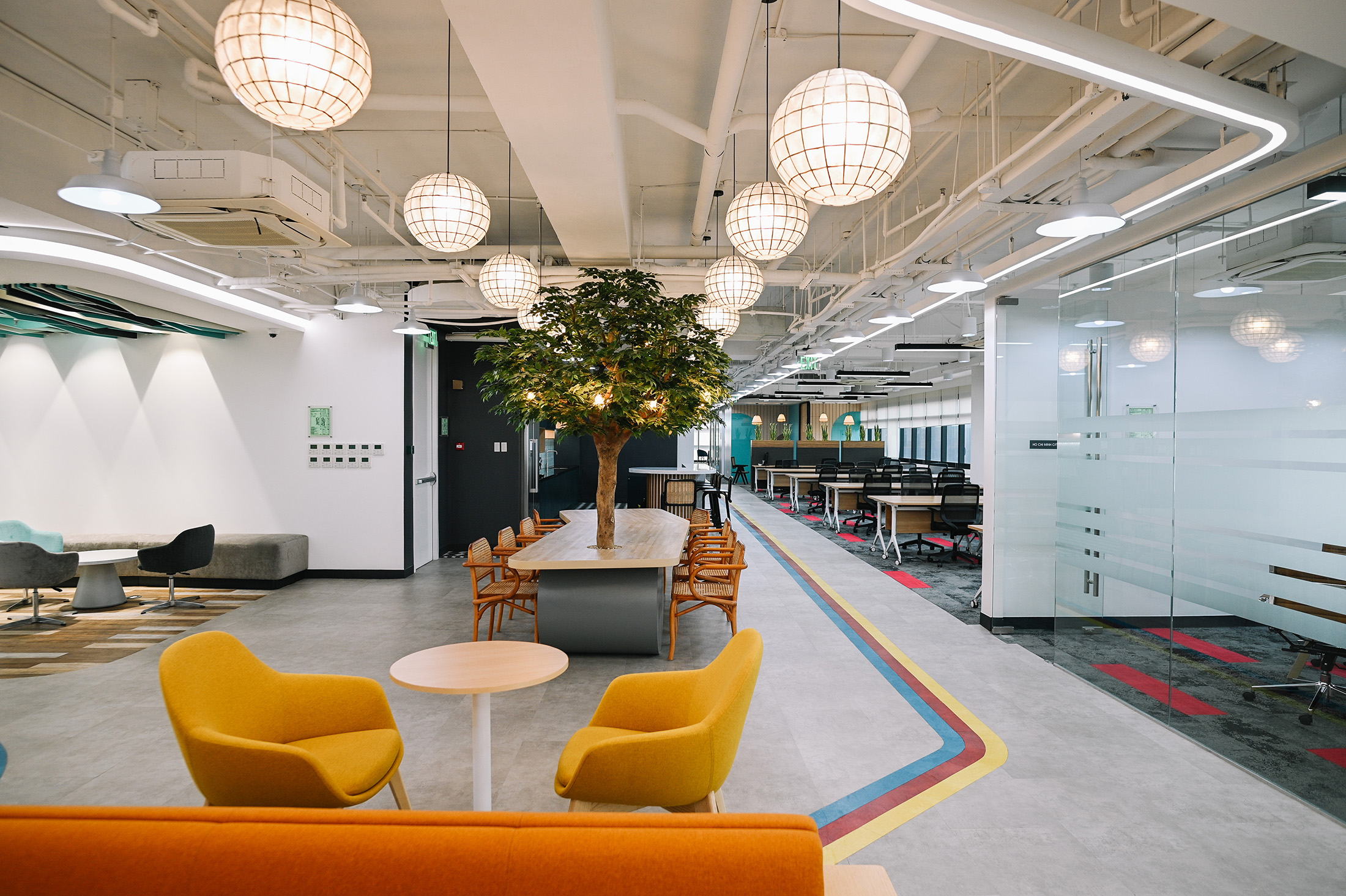 Similarly, pops of colours can be observed through the selection of furniture pieces, acoustic panels, carpets and wall colours throughout the office. Acting as a means of wayfinding, the carpet colours also signify the designated workspaces of Gotyme's different departments.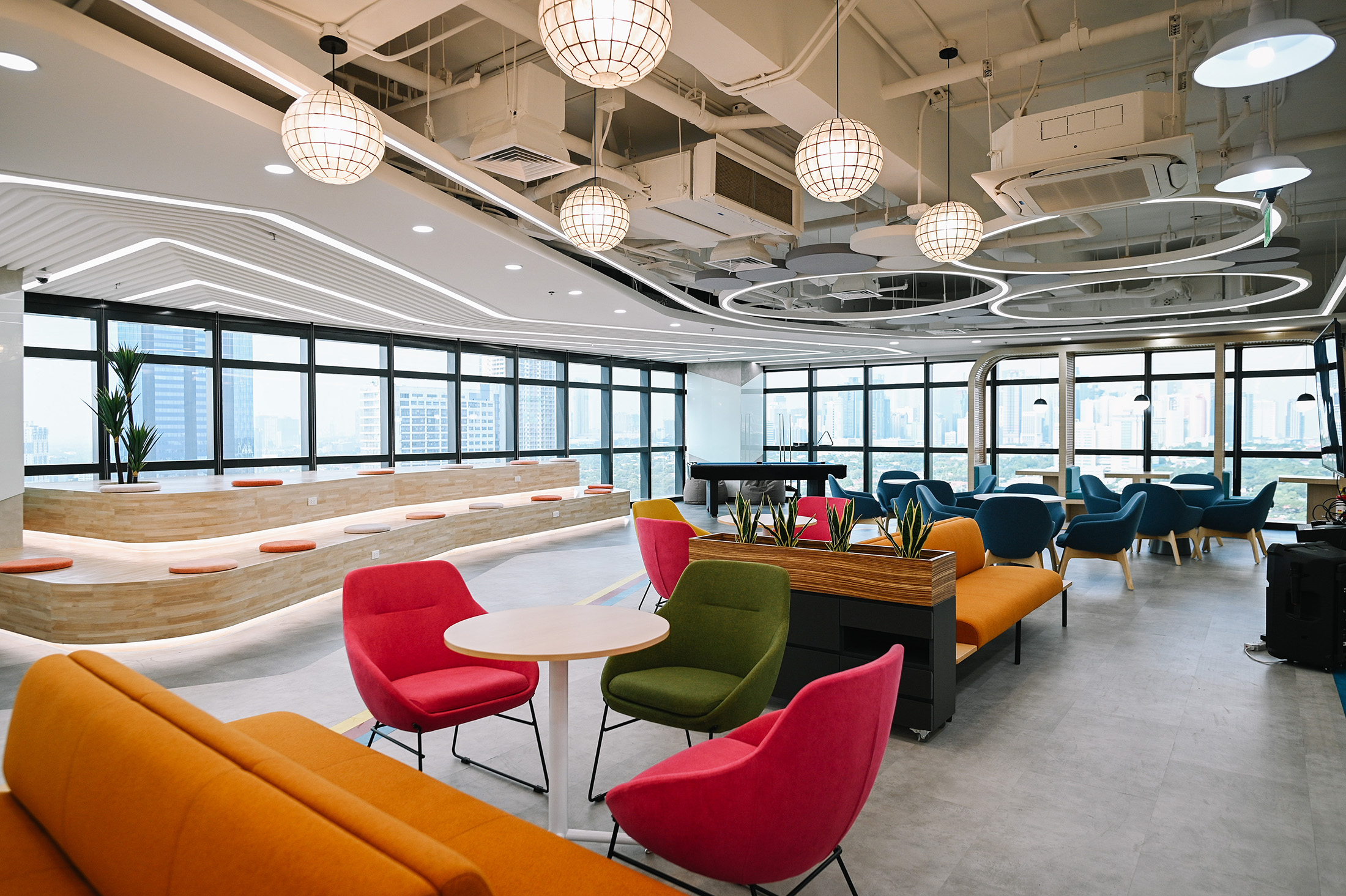 PSEUDO OUTDOORS
To introduce biophilia into the office, nature-inspired materials such as wood panelling and rattan furniture, lights and space dividers were used in various parts of the office. Besides the impressive vertical greenery at the entrance, planter boxes are also installed across the floorplate to double up as 'soft' demarcation within the office. At the open collaboration hub, a 'mini tree' is also planted as a centrepiece to the space, sending alfresco vibes to its surroundings. Collectively, these biophilic elements create an oasis of comfort within the office space.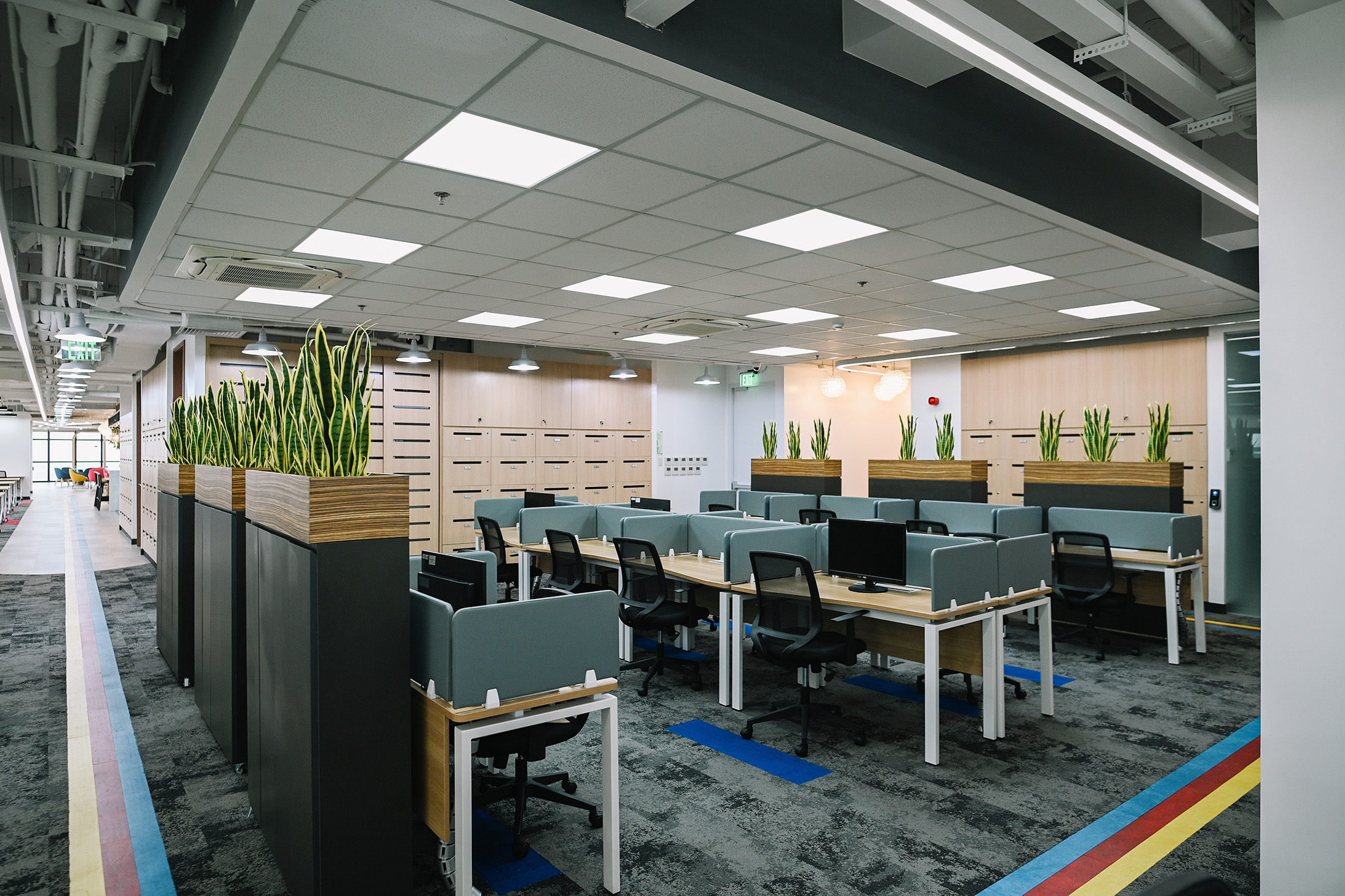 CONNECTING WITH THE WORKPLACE
In this new generation of the workforce, it is increasingly important for employees to be able to connect with their workplace and be motivated to head back to the office to collaborate in person. Gotyme recognised this trend, and worked together with DB&B to design and build an office that reflects their brand story and journey they have taken as a young company. This user-centric space also speaks of their company values and how they prioritise employee wellness to eventually drive productivity at the workplace.
*This story was first published in Office Concept Magazine, Issue VI6N1, MCI (P) 067/03/2023.