BOLD STATEMENTS
Suntory, one of the world's leading consumer product companies, wanted to design and build its new headquarters in Guoco Midtown, Singapore. The brief was to conceptualise a 26,400 square feet workspace that not only celebrated the company's brand and mission but would also help foster collaboration and room to grow its talents.
FLOWING LIKE WATER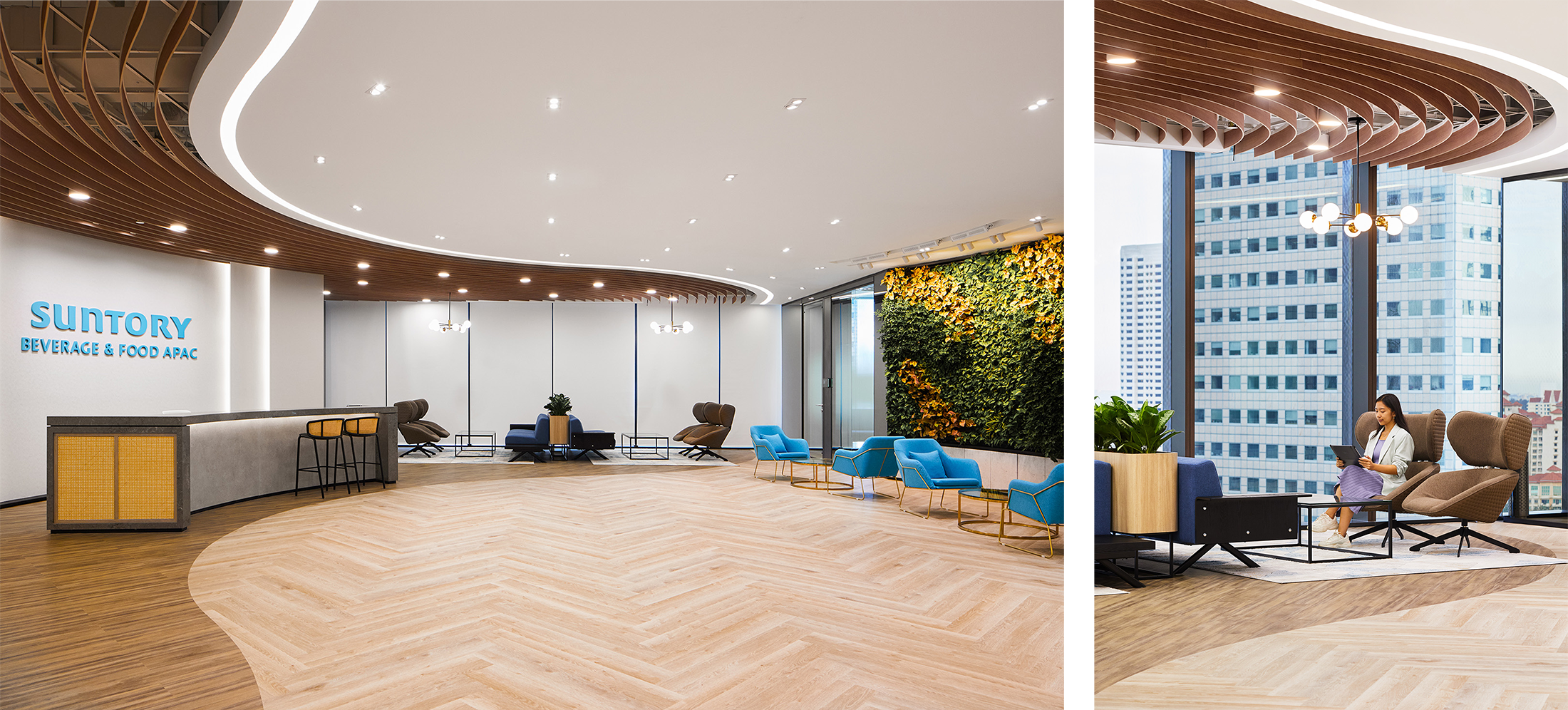 Our team drew inspiration from Suntory's philosophy – "Mizu to Ikiru" or living with water – to shape the office's design. The concept of water, flowing freely, curving its unique paths, yet harmonising with everything it touches, translated into a distinct spatial identity that embodied the essence of the Suntory brand.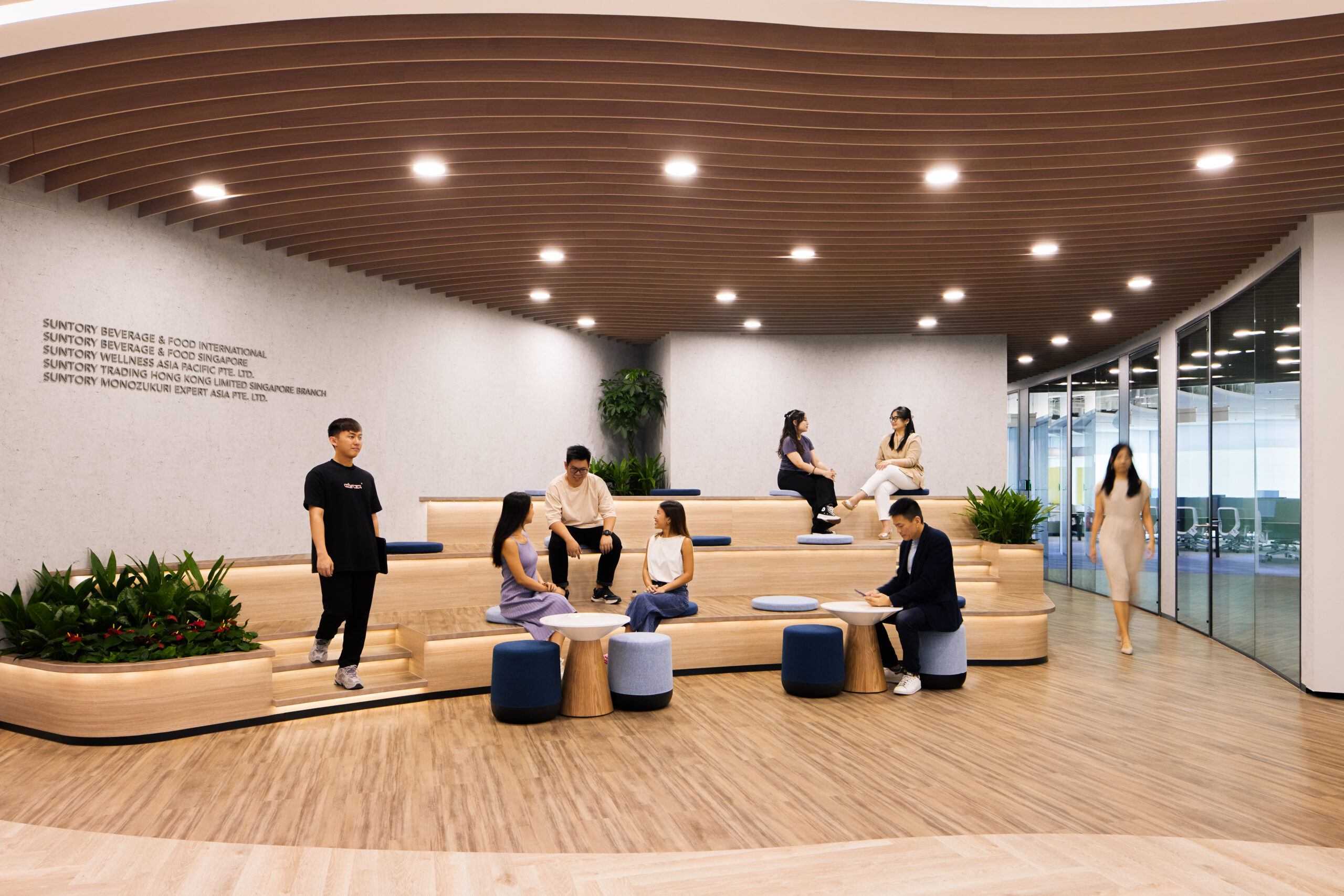 We envisioned a space that conveyed a sense of fluidity and equilibrium. Incorporating circular features, ripple patterns and flowing waves, along with the application of Suntory's brand colours, helped unify the entire space. The deliberate absence of sharp corners also helped create an open and interconnected environment.
The experiential walkway leading to the reception offers a delightful journey into the world of Suntory and its range of beverages. Enhanced with a water trellis design that captures ripple effects, the product display along the walkway slowly reveals its surprises. Arranged at a 45-degree angle, the display casts an anamorphic effect on the Suntory signage visible from the lift lobby.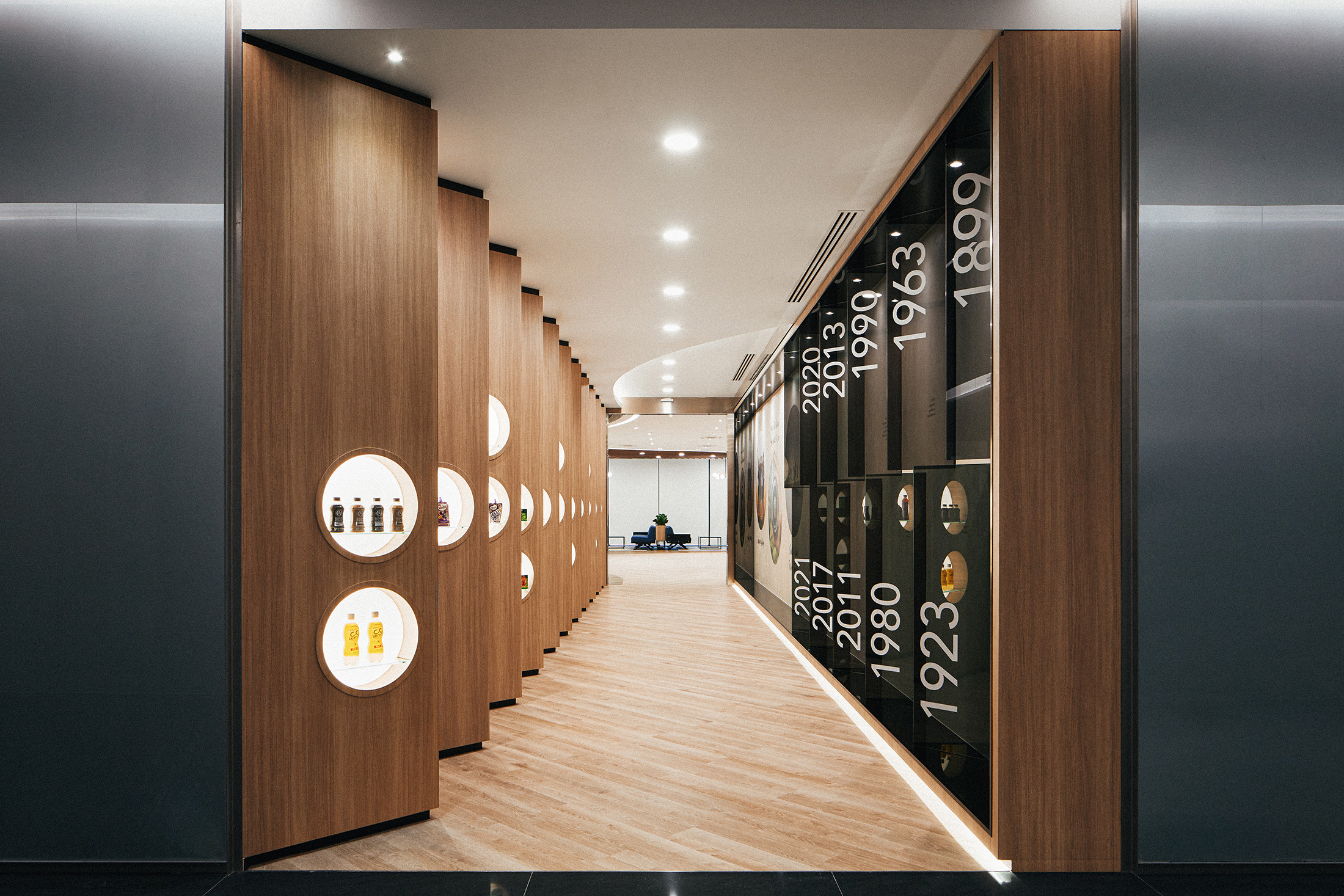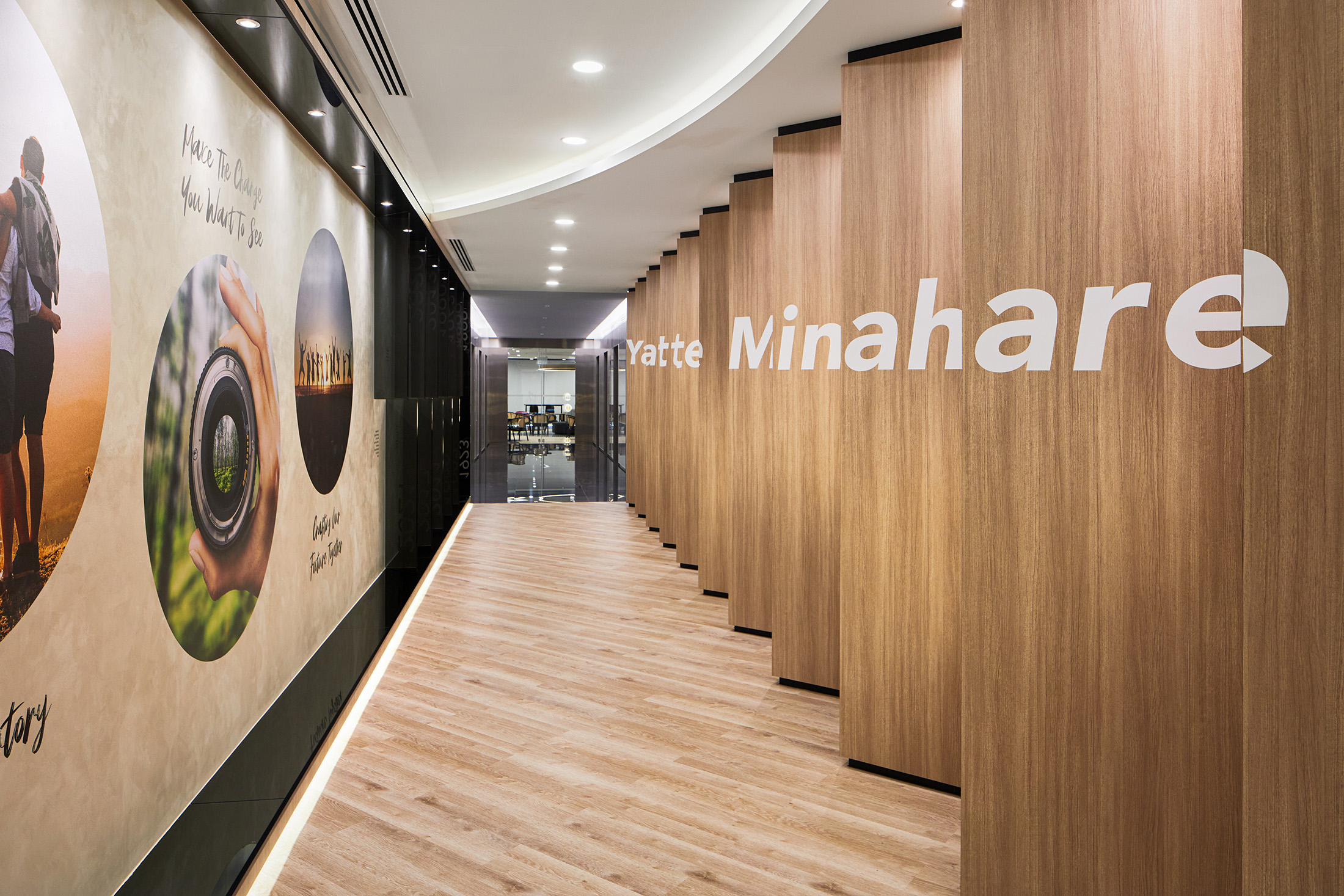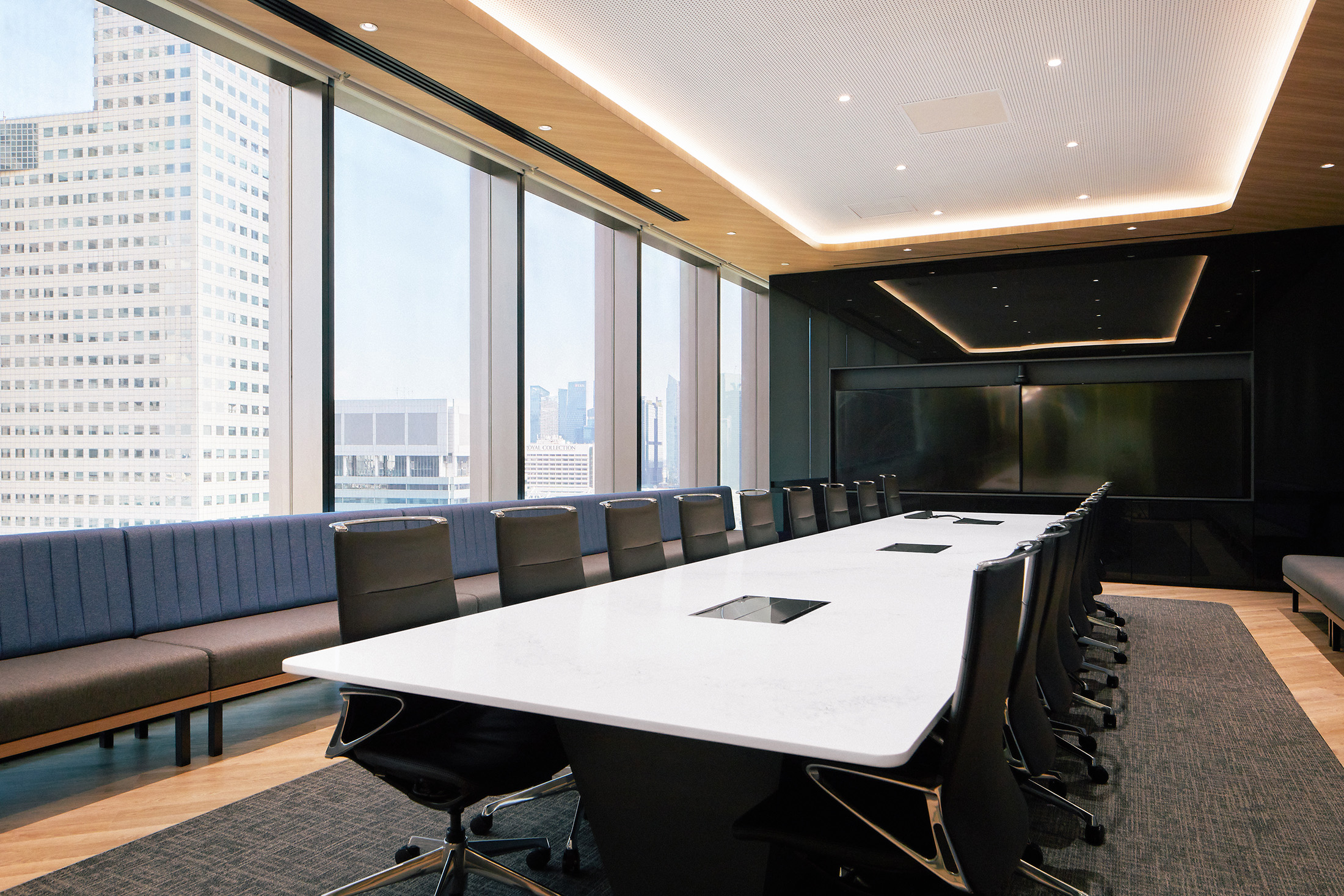 Rather than segmenting the office into isolated zones, our plan embraced intertwining zones catering to diverse needs. Inspired by Suntory's product colours and Singapore's public housing flats, the zones feature vibrant hues of blue, yellow, purple and green.
Taking inspiration from the surrounding neighbourhood, the zones also include playful references to the local context through customised signages and murals.
DESIGN FOR DISCOVERY AND HARMONY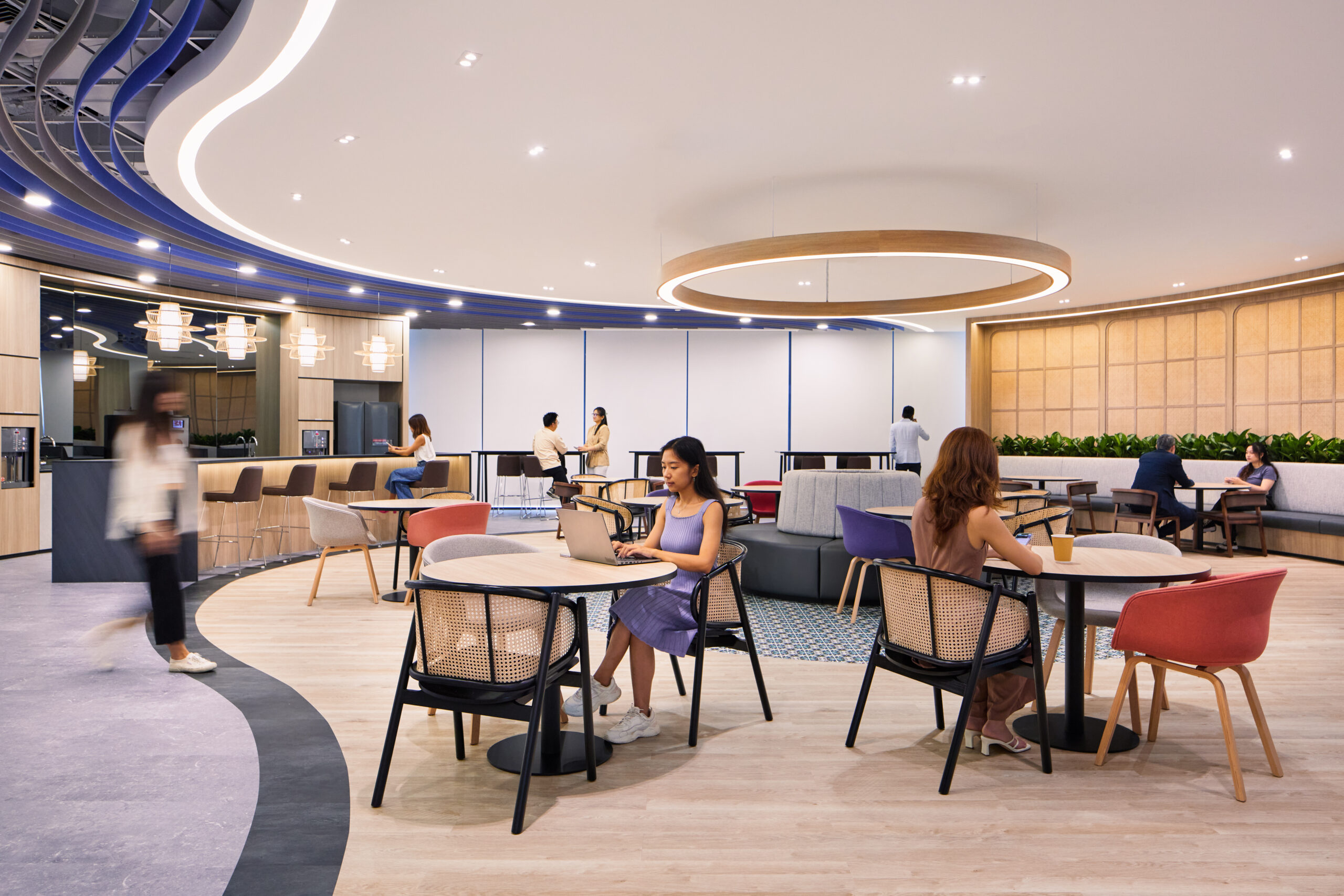 Extending the concept of fluidity, the office's design guides its users to embrace discovery, connection and harmony.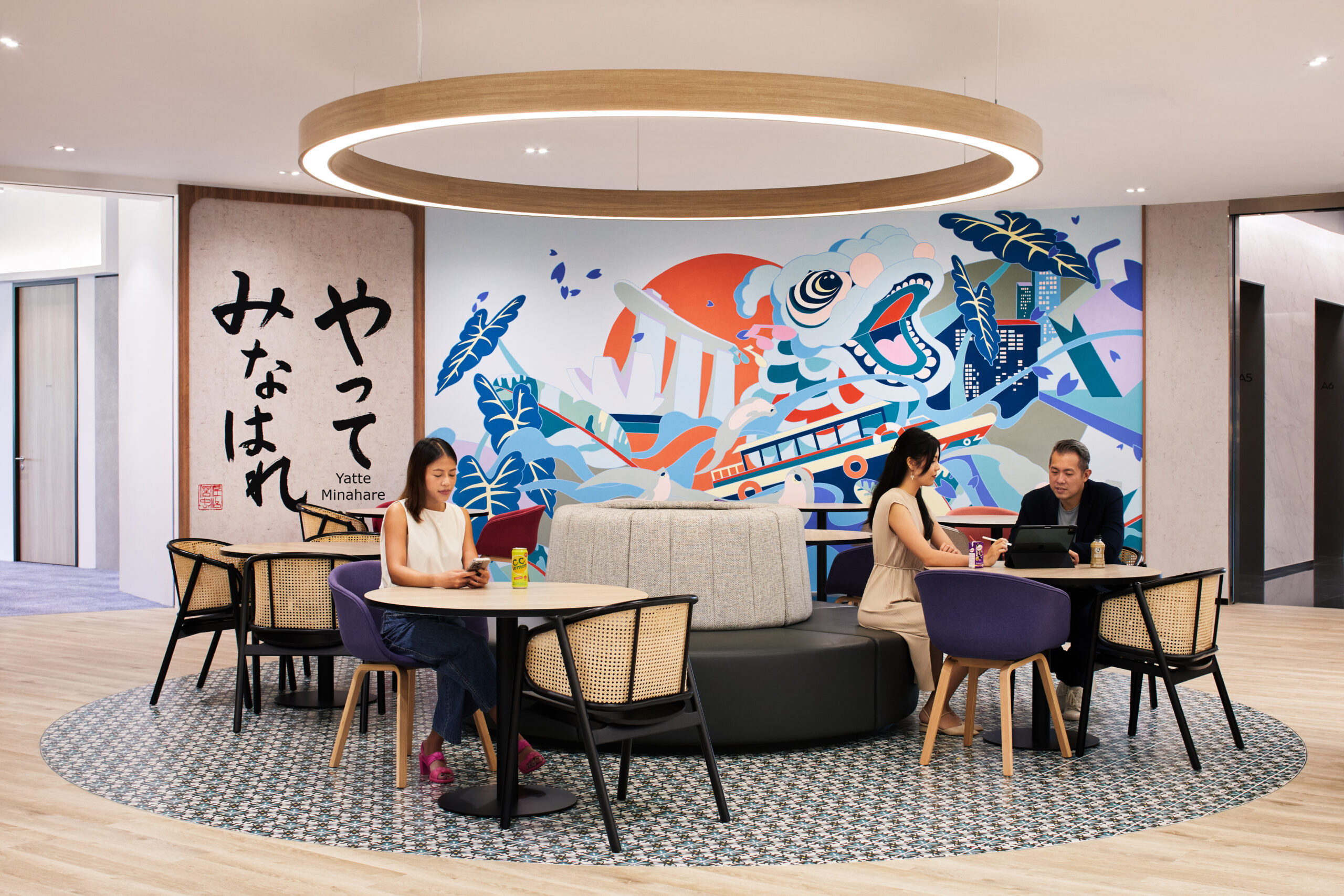 Recognising that innovation and collaboration can occur serendipitously, our design activates spaces like the reception, workspace, pantry and game area with multiple ways for employees to collaborate.
We re-envisioned the reception area with a unique mini theatre platform featuring tiered seating, serving as a welcoming foyer for guests and a casual spot for employees to connect. Unique circular magnetic panels in the games area were introduced to offer a fun and hands-on platform for employees to brainstorm and express their creativity. These panels can be arranged to create different words, patterns, or even artwork, offering limitless possibilities.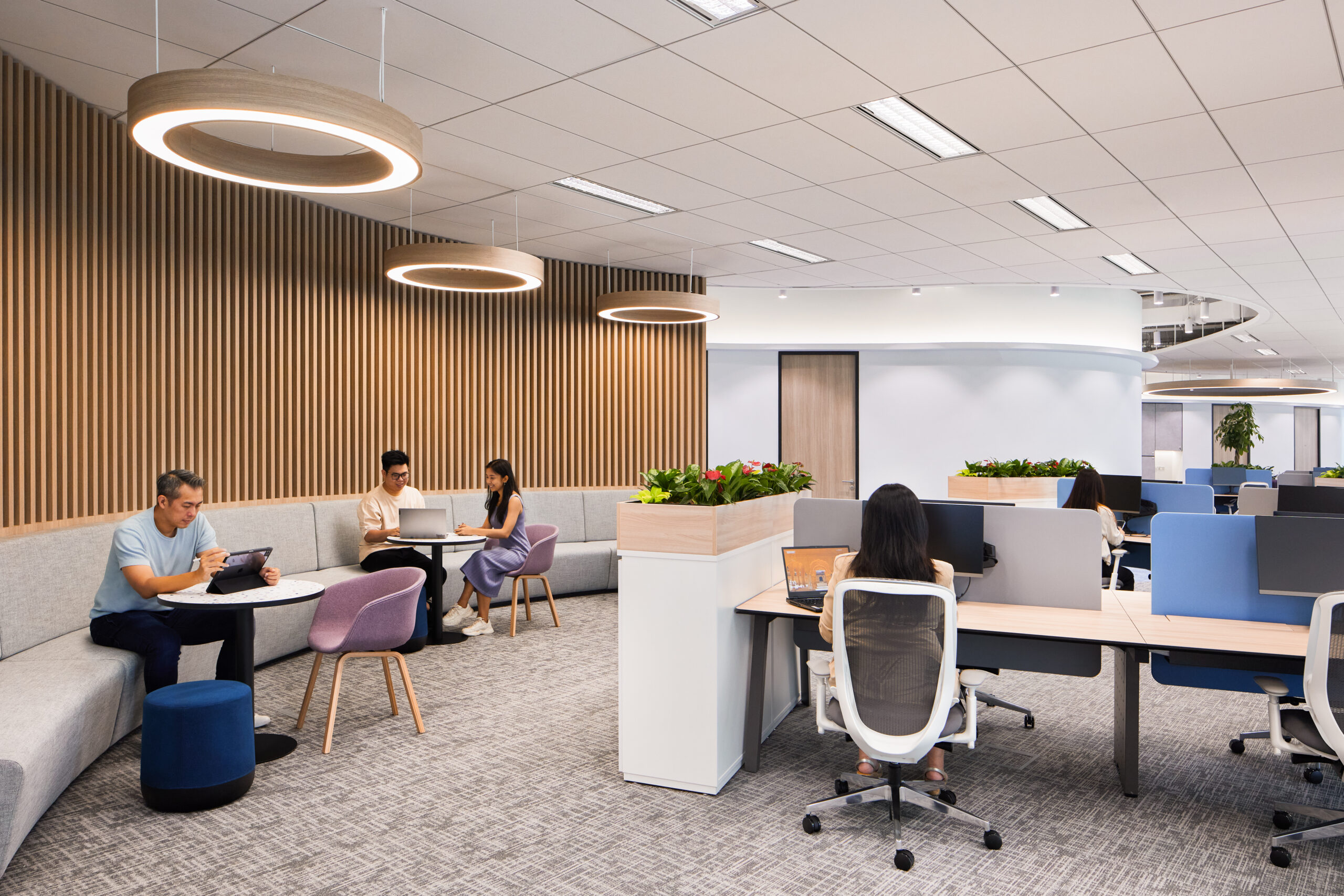 The open floor plan was also carefully designed to accommodate for potential opportunities to augment the workforce by over 10% and features a variety of work settings.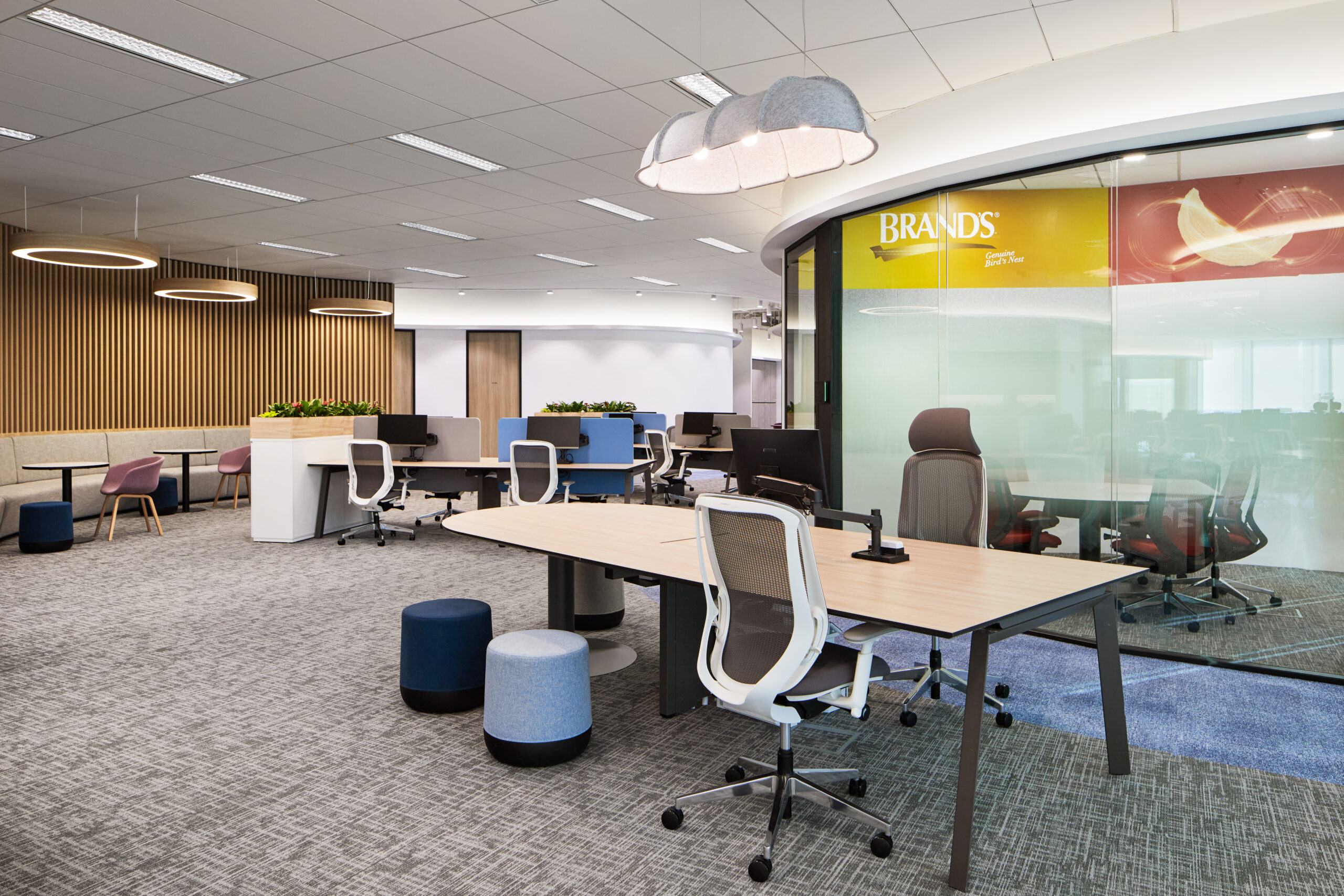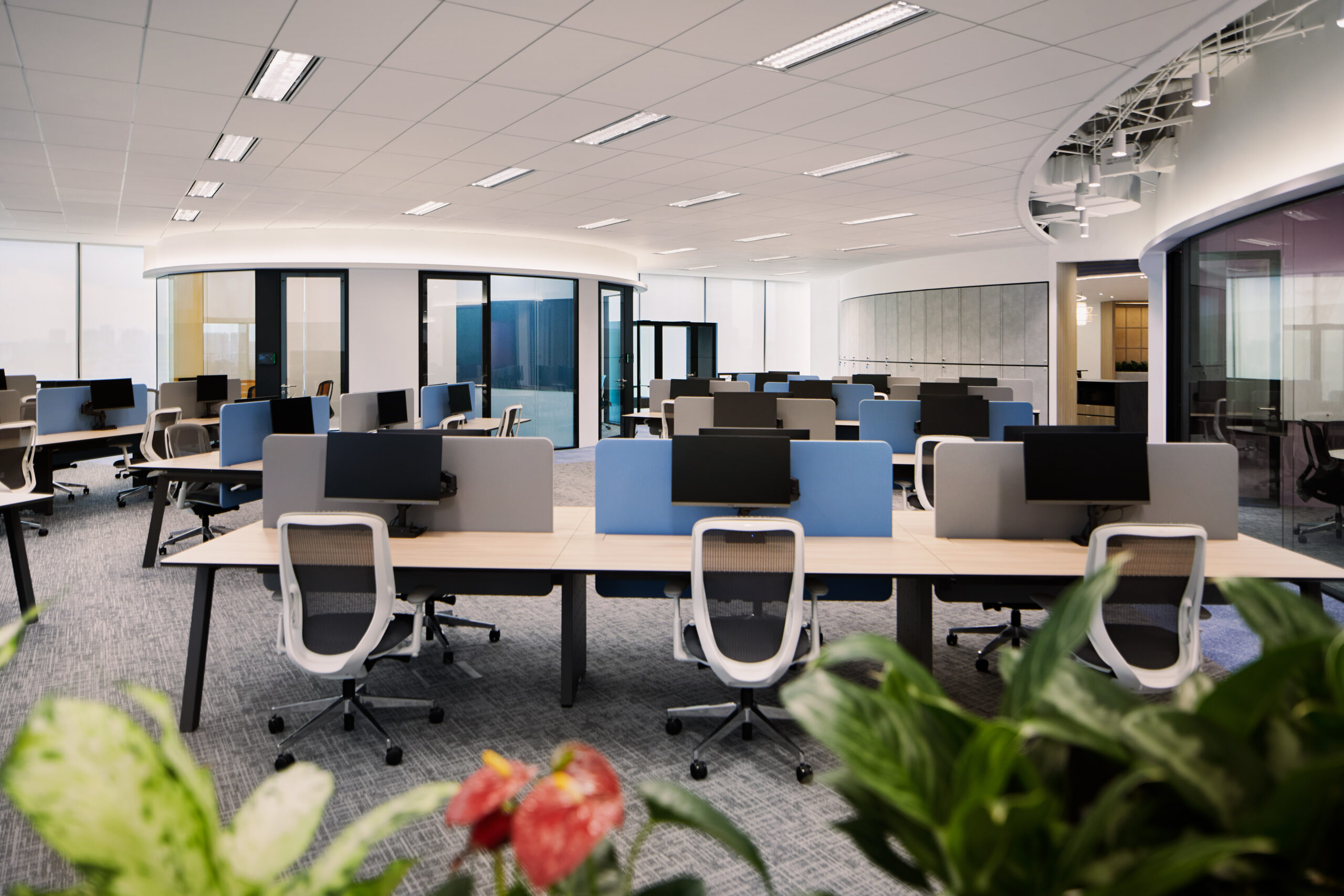 Collaborative areas feature flexible seating arrangements, while hot desking options offer room for configurability. The CEO's work area and tech hub are seamlessly integrated into the open floor plan, offering a blend of privacy and functionality. The pantry features an open layout interspersed with breakout areas that encourage movement and interaction.
EXPRESSING THE BRAND STORY
In addition to its focus on functionality and collaboration, the Suntory office serves as an expression of the company's brand and Japanese heritage.
The reception features a Suntory logo with debossed signage set in a textured wall, symbolising a strong and reliable image. The use of natural materials such as wood and incorporation of greenery into the reception create a soothing environment that aligns with Suntory's dedication to sustainability.
Calligraphic expressions of "Yatte Minahare" or "Go for It!" – Suntory's spirit of dreaming big – and a Japanese-inspired mural add a sense of liveliness to the pantry.
The meeting rooms have also been uniquely designed to showcase the various brands Suntory offers, offering a platform to display branding elements and product visuals in a memorable way.
Since its completion in 2023, the Suntory office has garnered positive feedback as an inviting workspace that creatively expresses the Suntory brand.