BOLD MOVE TOWARDS AGILITY
To aid in the Group's bold strive towards greater productivity and efficiency, Veolia selected DB&B to explore activity based work settings where there will no longer be assigned seats, allowing employees to be fully agile and have the
choice of seating types that is suited to the task at hand.
After a thorough understanding of user needs, DB&B designed a dynamic, open concept office which promotes collaboration. A central social hub for people to congregate, training and meeting facilities, collaboration areas, huddle rooms, open benches, quiet rooms, and phone booths were carefully planned to fully support Veolia's day-to-day operational needs.
The core of the public design story is the Social Hub. The design concept DB&B conceived includes having three major sections of the workspace representing Veolia's core areas of business. The reception, with its focus on the flow of people, is named Water. The cafe, with its focus on food, recycling and renewal is metaphorically referred to as the Waste side of the business. The meeting suites, with a focus on knowledge sharing, are delineated with the title Energy.
The Social Hub with the reception taking centre stage, branches out to breakout and meeting spaces, media showcase and cafe. This community hub aims to be a multi-function platform that can be utilised at any time of the day for a variety of tasks.
VISUAL IMPACT
The design team also applied a unique design element for visual impact. The ceiling design which mimics lenticular clouds that hover over space gives subtle impressions of demarcation within the large space without having walls.
The workplace is dynamic and flexible – representing a constant evolution of Veolia's scope of business. In this space, there are multiple seating options and configurations. Bench workstations are height adjustable to allow choice of sitting or standing. 120 degree workstations allow work material to be available for both hands. Work pods allow for focused work. At the back-of-house work area, we created multiple collaboration areas. Sofas and side table seating can facilitate group meetings. In this setting, questions can be asked and answered in a public forum. The bookcases at the collaboration areas become less transparent as employees add books, manuals, sculptures and plants and these also doubled-up as a creative space divider. With nearly 60% of everyday meetings amongst two to four people according to recent studies, DB&B responded to this workplace metric by placing 4-pax sized (persons approximate) meeting rooms interspersed amongst the workspace. These rooms allow small groups to find a quiet area to conveniently have a discussion.
In line with an agile system, desks are not assigned. Each morning when an employee reports to work, they'll place their belongings in a locker and find the work setting and seating that is best suited for their first task of the day. In the course of the day tasks will change and that might call for alternative settings. Personal lockers are provided to hold work materials and personal effects thus becoming a mini-library that is visited multiple times over the day. These personal lockers are tucked discreetly along the perimeter of the building core.
Taking into consideration Veolia's goal in enabling a dynamic and forward-thinking workplace, this new platform also underlines the company's quest for innovation. Responsive design and a new work strategy contribute to the mental, physical and social health of Veolia employees.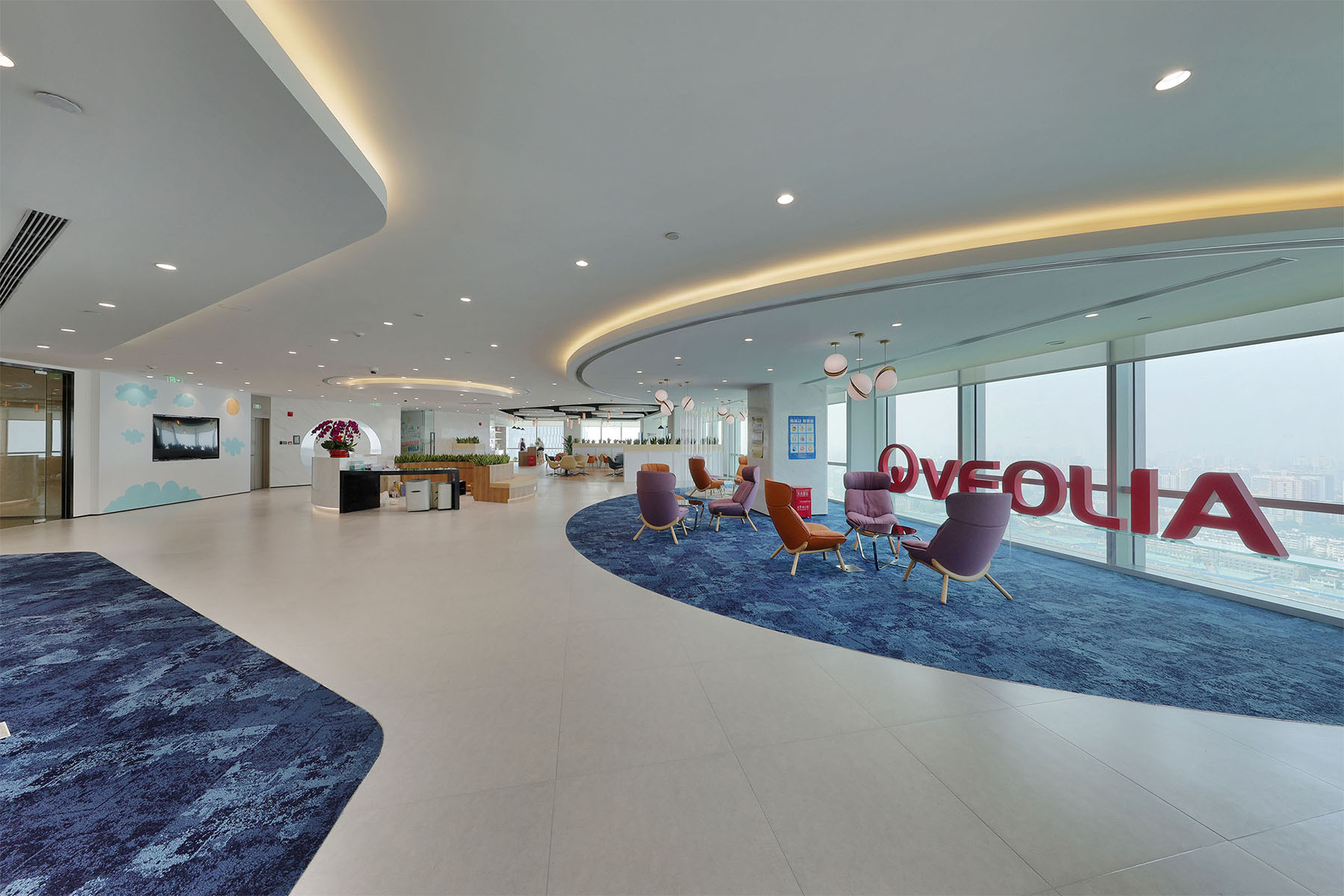 Caption: Veolia's circular reception desk is the centre of the Media Wall, Break Out and Pantry of the Social Hub.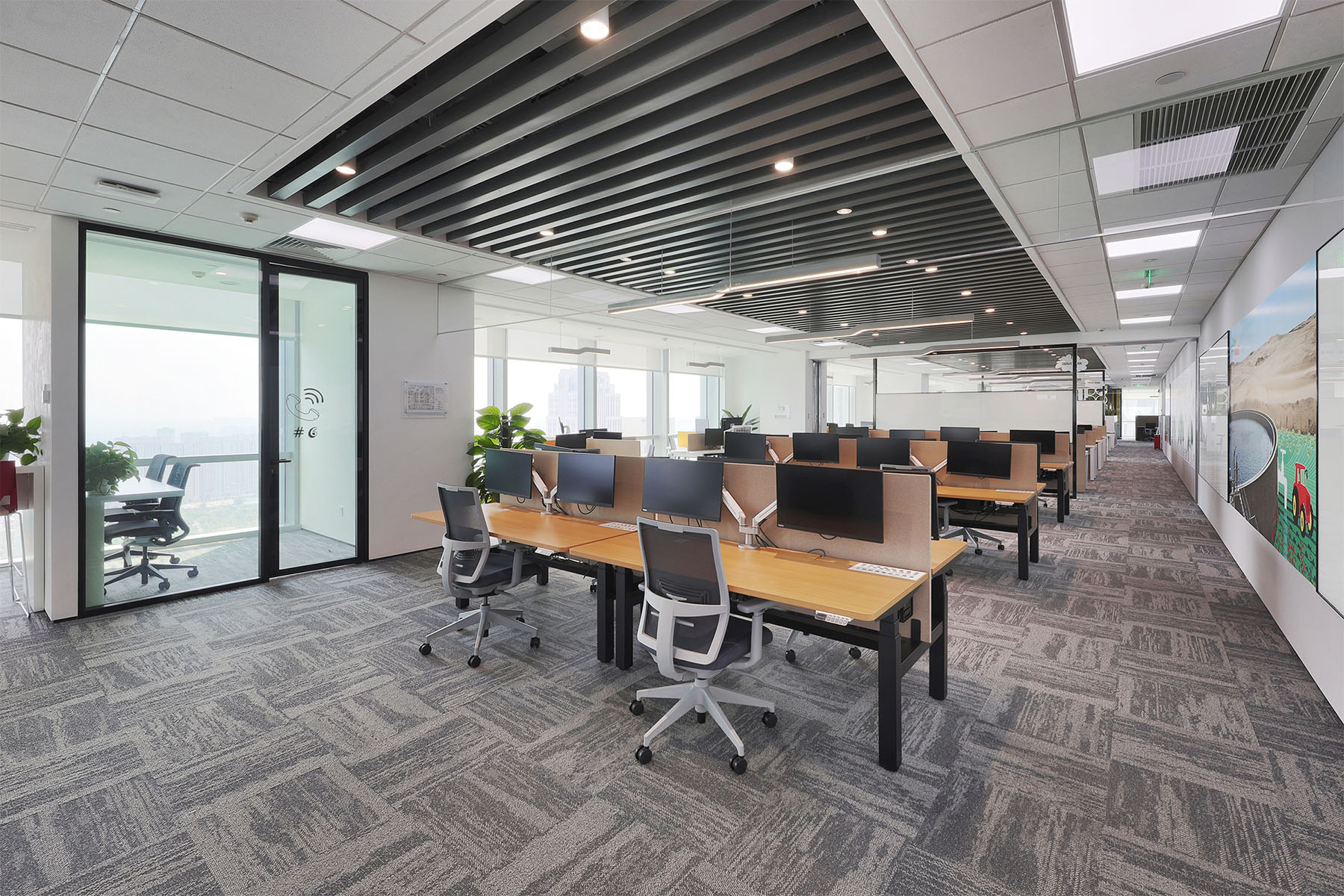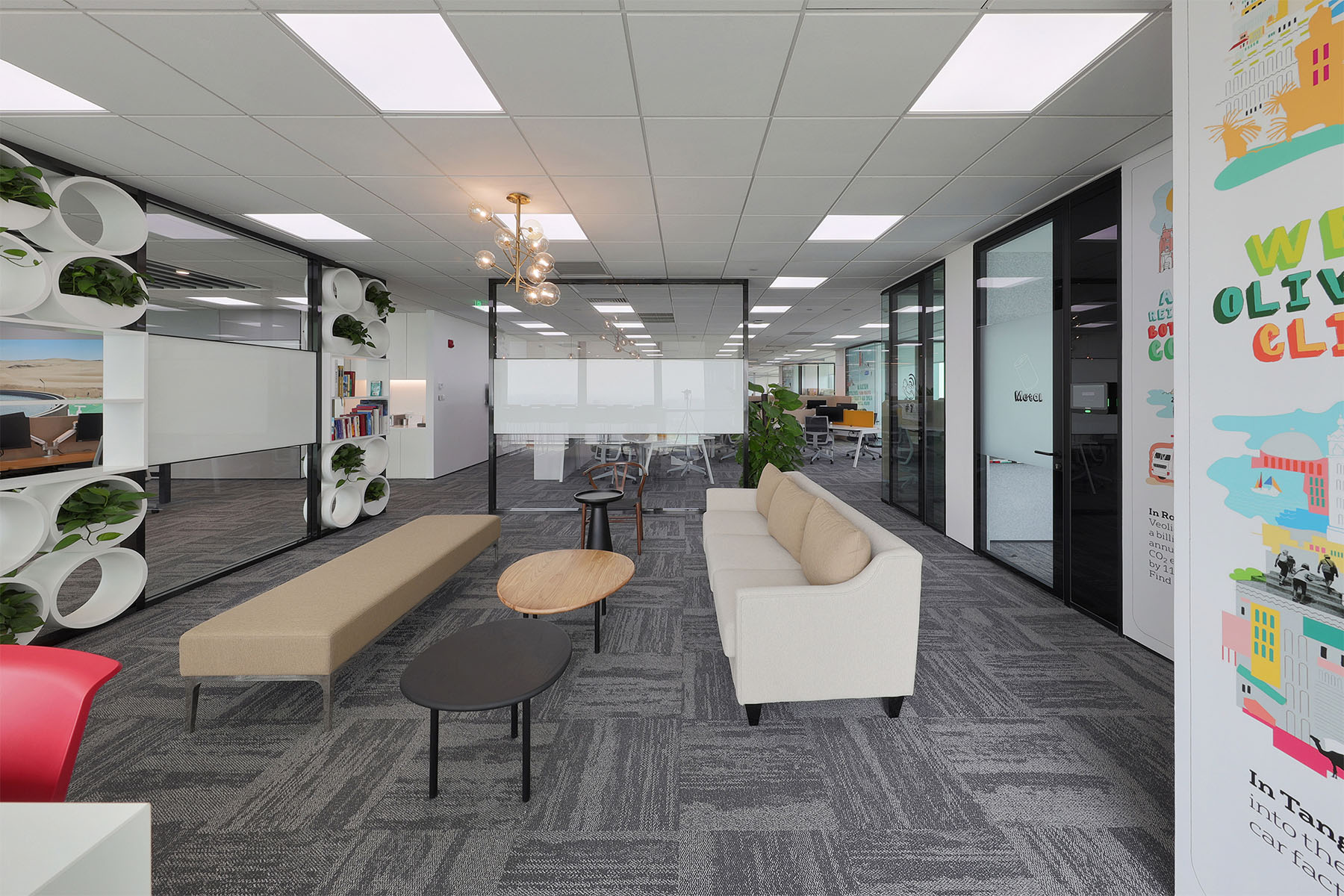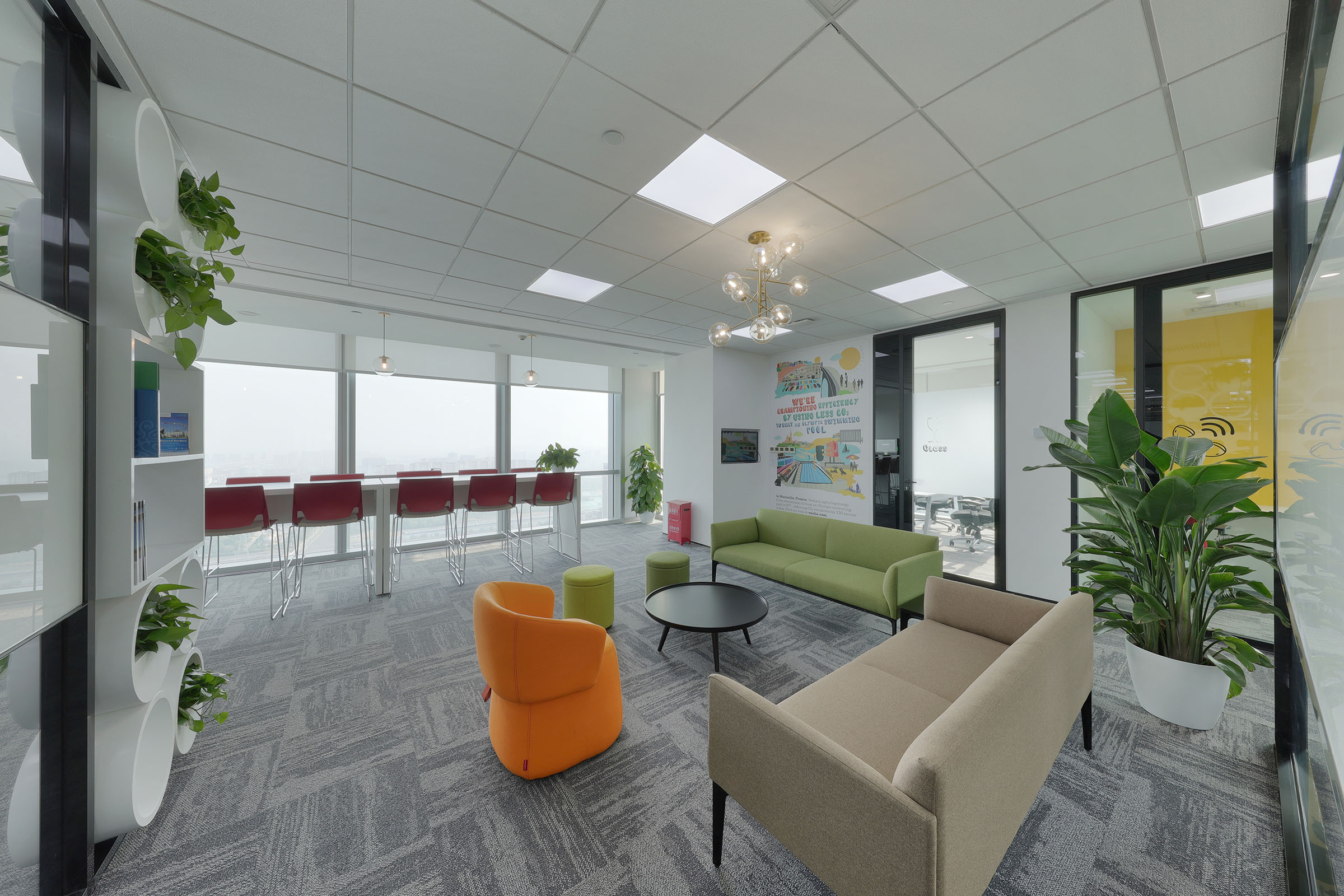 Caption: Collaboration areas offer spaces for free exchange of ideas. Open sharing removes the fear of knocking on a closed door and asking a question.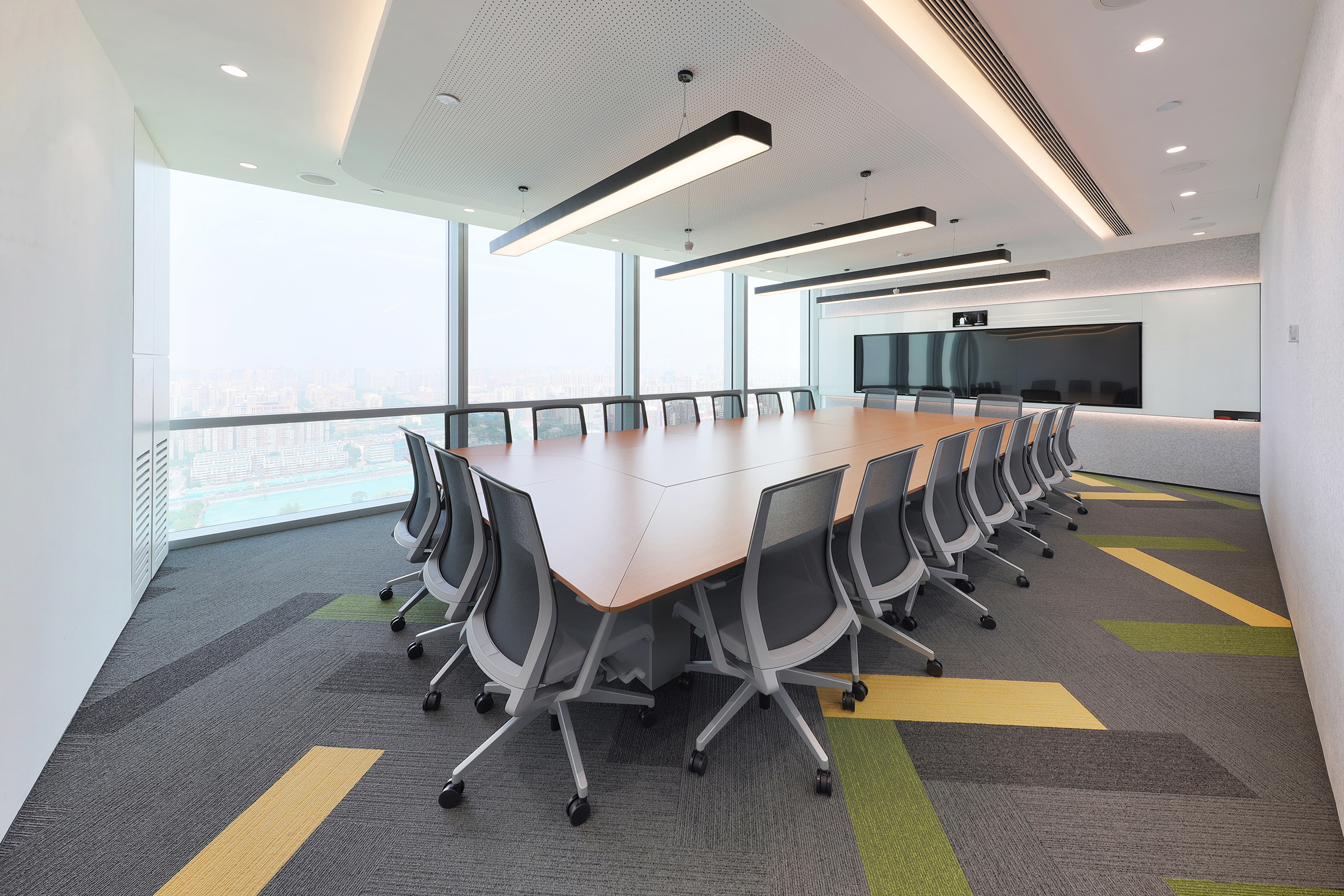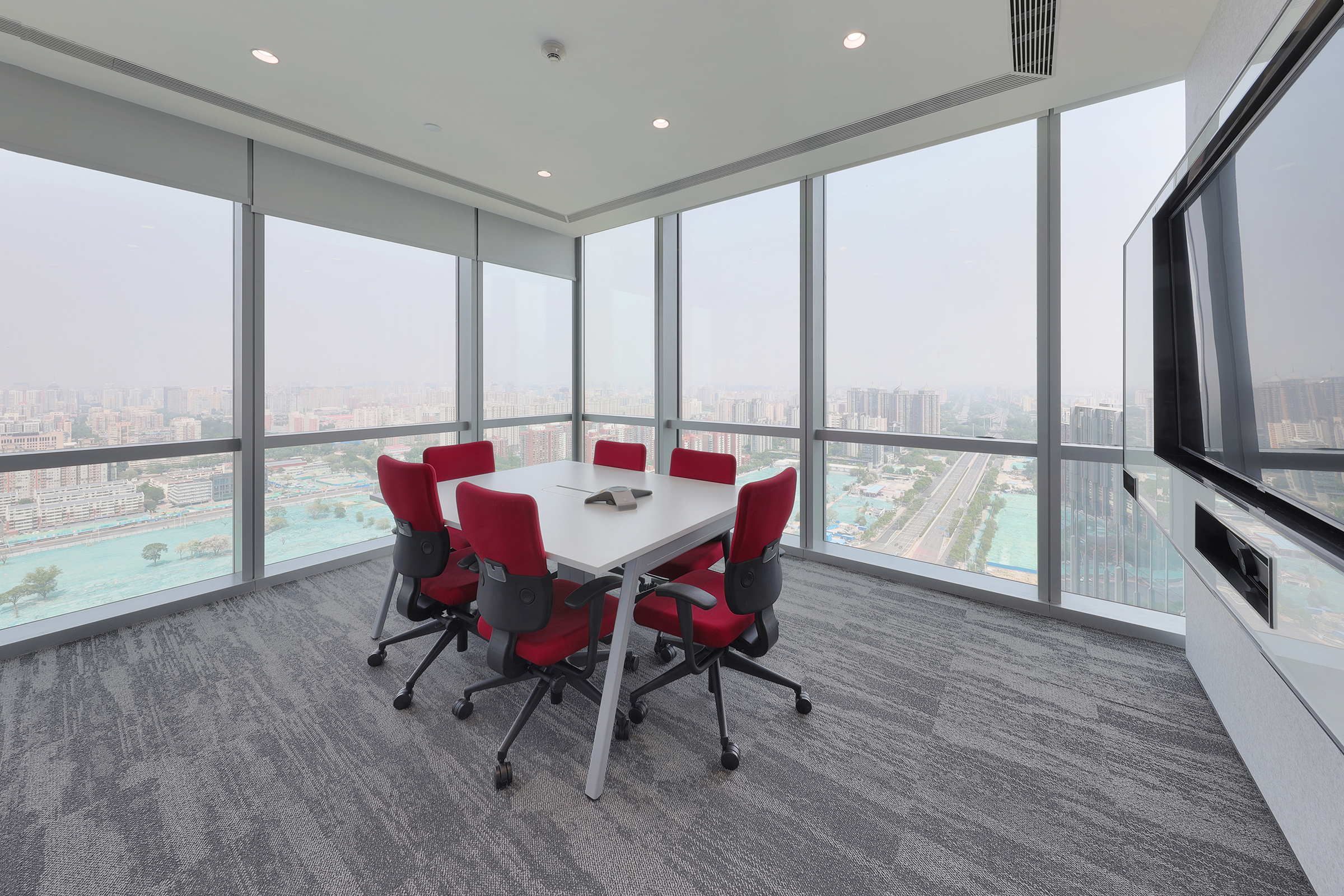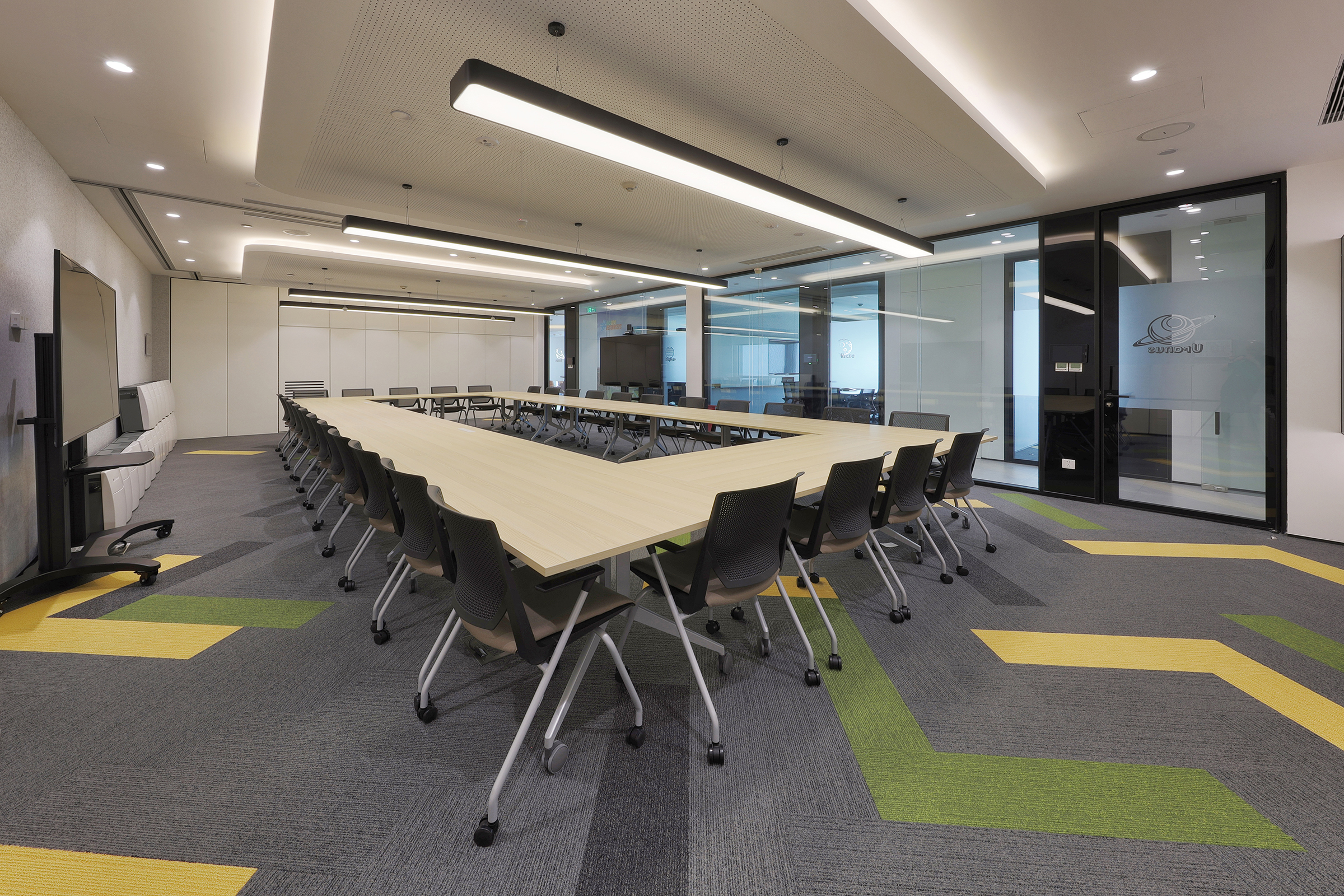 Caption: The corners of the building are reserved for fully equipped AV meeting rooms.